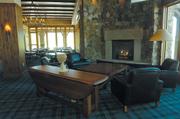 Steamboat Springs — When the Steamboat Springs City Council decided Tuesday night to pay $3.6 million for a new community center, plans for Bud Werner Memorial Library also became much clearer.
Bob Matteo, president of the library's board of directors, told the City Council that half the construction drawings for the $11.4 million library expansion are complete, contractor interviews will begin in April, construction bids could be accepted in May, and "we are still on track to start in July."
A May 2006 contract between city officials and the library district allows the district to close on its $500,000 purchase of the current Steamboat Springs Community Center site, adjacent to the library, as soon as July 1.
"That's our target," Matteo said Tuesday. "Nothing is concrete, but that's our target."
Closing on the land purchase would allow construction of the 23,400-square-foot expansion approved by voters in 2005.
Library director Chris Painter also hopes the 16- to 18-month library expansion project will begin this summer.
"Our schedule has always been set around moving forward in July," Painter said.
Matteo stressed that library officials are working with a pre-construction team, including Oak Creek contractor Paul Barry, to ensure the library project comes in on budget despite rising construction and materials costs.
"We are as confident as possible to be at this time that the budget numbers we are working with are reasonable," Matteo said.
The new community center was first bid at nearly $4.1 million by local contractors Fox Construction, which worked with city staff and Golden architect Nan Anderson to cut the price to the level approved by the City Council.
Work on the 8,400-square-foot community center on a 2.3-acre site adjacent to the Stock Bridge Transit Center west of downtown will begin within a matter of days and is scheduled for completion in February 2008.
Impending construction of the library expansion means current community center users - primarily the Routt County Council on Aging and the local American Legion chapter - will need a temporary home.
The City Council directed city staff to work with the Council on Aging to find a temporary facility, which would need a commercial kitchen and large dining area for senior citizens who participate in meal programs.
Deputy City Manager Wendy DuBord said the clubhouse at the city-owned Haymaker Golf Course will provide an ideal temporary location for senior citizens, but the clubhouse is used from May until late October or early November. DuBord said seniors could first move to another facility in the summer, then move to Haymaker in the fall and await completion of the new community center.
Shelley Orrell, program director for the Council on Aging, said she is "pleased, but apprehensive" about the prospect of numerous moves in the coming months.
"At least we're moving forward, finally," she said.
- To reach Mike Lawrence, call 871-4203
or e-mail mlawrence@steamboatpilot.com