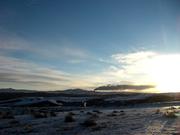 Hayden — A fire Thursday morning consumed more than 14,000 gallons of crude oil on the surface of a well site east of Hayden.
West Routt Fire Protection District Chief Bryan Rickman said the fire was reported around 7:30 a.m. by Hayden resident Randy Booco, owner of Booco Contracting.
Booco Contracting employees had been working on the well site owned by Infinity Oil Company on Wednesday, replacing a tank.
Booco could not be reached for comment Thursday.
Smoke from the fire plumed miles into the morning sky, and was visible as far away as Oak Creek. Flames from the fire reached 100 feet at one point, Rickman said.
"It was pretty impressive," he said. "It was burning pretty good. I was able to see smoke and flames from downtown (Hayden) when I left."
West Routt and Routt County Sheriff's Office investigators were unsure what caused the fire, which destroyed a building and blew a 500-gallon propane tank lid 300 yards away. They suspect the fire may have started in one of the wells and spread to two other oil tanks.
Arson is not suspected, he said.
The spilled oil - estimated to be around 350 barrels - was contained in a berm, preventing the oil from contaminating the ground or any water supply.
"There has been no release of any material outside that berm," Rickman said. "That's why they're in place - so we don't contaminate the environment. It worked very well."
Because of the fire's size, firefighters did not attempt to extinguish it, and instead let the fire burn itself out.
"Essentially, it was too hot and muddy and too dangerous to make access until it burned down," he said. "We decided to stand back and watch it. It was pretty unfightable."
On Thursday afternoon, Rickman said there was still a 500-gallon tank that was burning but that the fire was not in danger of spreading or increasing in size.
"It wouldn't surprise me at all if that continued to burn overnight," he said.
No injuries were reported as a result of the blaze, and no one was around when the fire began, he said.
The value of the lost oil was estimated to be around $125,000.
Routt County Director of Emergency Management Chuck Vale and Routt County Sheriff's Office personnel, including Sheriff Gary Wall, responded to the fire, in addition to crews with the West Routt Fire Protection District.
Rickman said there are several private oil wells on Wolf Mountain, including the one that caught fire Thursday.