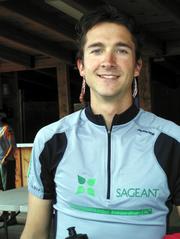 Memorial service
In lieu of flowers, people are asked to send donations in memory of Paul Maniaci to benefit search and rescue teams in Teton County, where Paul died, and the Western State College Mountain Search and Rescue Team in Gunnison, where Paul made rescues and trained others how to do so.
Checks should be made payable to the Paul Maniaci Memorial Fund and sent to Wells Fargo Bank, P.O. Box 774888, Steamboat Springs, CO 80477.
A memorial service is March 28 in Gunnison. A time has not been set.
The family of Jessica Maniaci, Paul's wife, is hosting an open house from 5 to 8 p.m. today and Friday at their home at 48 Maple St. All who want to remember Paul and visit with Jessica are welcome to attend.
Steamboat Springs — Paul Maniaci was drawn to the outdoors.
The avid mountain biker, swimmer, rock climber, kayaker and runner became an accomplished adventure racer. As a member of the Western State College Mountain Search and Rescue Team and the husband of Jessica Maniaci, an accomplished Nordic skier, Paul became a great backcountry skier as well.
Late Saturday afternoon, on a southwest-facing slope near the Wind Caves in Darby Canyon, Wyo., Paul, 24, was swept down a ravine by an avalanche and killed while backcountry telemark skiing with his brother, Pete. Jessica skied with the men earlier in the day, but returned to her car before the avalanche.
Paul, a Steamboat Springs teacher, would have turned 25 Sunday.
On Wednesday, Jessica remembered her husband as an avid outdoorsman and teacher, a man who "was perfect and would make sure I knew that." Paul and Jessica were married June 17, 2006, in Steamboat, less than one year after they began dating. Although their engagement was brief, they had known each other for several years. Both attended Western State College in Gunnison.
Reunited when both returned to live in Gunnison in 2005, Jessica remembers learning how Paul was interested in more than a friendship.
"The first time I saw him, I was running and he was biking," she said. "He told a friend, 'I could see myself marrying that girl.'"
There was little Paul set out to accomplish that he didn't achieve. His love of life and of making each day count was a message he passed along to the students he worked with in Steamboat Springs.
As a part-time teacher at the Yampa Valley High School, the county's alternative school, Paul made an impression on colleague Karla Setter and their students.
"He was an eternal optimist," Setter said. "When the students walked in the door, they could absolutely count on him having a smile on his face. He started fresh every day."
Haven Thomas, a junior at the school, wanted Paul's family to know what he meant to her.
"The lessons in life I received from Paul are ones that will impact my life most, helping me become my 'best self,'" Thomas said.
Setter said Paul loved the expression "best self." "He got me saying that from a teacher he worked with in Gunnison. It's something I have applied to my life outside of school."
Paul graduated with honors in 2000 from Air Academy High School in Colorado Springs, but he spent much of his time after graduation in Gunnison, where he graduated from Western State College in 2004 with a degree in education and geology.
Gunnison is mourning his death, said friend and former colleague Jake Jones, faculty adviser for the Western State College Mountain Rescue Team, on which Paul served and eventually became a trainer and leader.
"One of the most profound things here, especially for the rescue team, is that Paul had performed many similar body recoveries as a rescue team member," said Jones, referring to the Teton County Wyoming and Teton County Idaho Search and Rescue teams that recovered Paul's body from the mountains near Jackson Hole, Wyo. "Many team members did those same rescues with Paul. They were the ones who dealt with a grieving family, so I think for the rescue community it is tough. It makes it very personal. : He was a phenomenal individual."
Jessica and Paul recently purchased a building lot in Driggs, Idaho, so they could move near Pete Maniaci and raise their families together.
The area where Paul was killed was an area Paul and Pete had skied before, Jessica said.
Both men were carrying the appropriate avalanche equipment with them Saturday, and Pete, who was able to free himself after being swept down the mountain in the avalanche, found Paul using an avalanche beacon.
But Paul had fractured his C5 vertebrae during the slide, which buried him beneath 4 feet of snow. He had no pulse when Pete found him, and Paul never responded to CPR.
Jessica, who said she would "not change a thing" about her life with Paul, noted that he died doing what he loved most - skiing the Teton backcountry with her, his brother and their dog, Mica.
- To reach Melinda Mawdsley, call 871-4208 or e-mail mmawdsley@steamboatpilot.com