Past Event
Wednesday, March 14, 2007, 6:30 p.m. to 8 p.m.
Hayden Town Hall, Hayden, CO
All ages / Free
Past Event
Thursday, March 15, 2007, 6:30 p.m. to 8 p.m.
Oak Creek Town Hall, 129 Nancy Crawford Boulevard, Oak Creek, CO
All ages / Free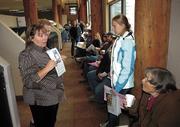 Steamboat Springs — Steamboat Springs resident Dale Good sees a simple solution to improving Routt County elections.
"More machines and more space," Good said Monday. "It's not rocket science."
About four months ago, Good waited for hours at the Fairfield Inn south of downtown Steamboat, hoping to vote in the Nov. 7, 2006, election that saw huge delays for voters in Routt County, Denver and across Colorado. Memories of that day - such as waiting in a stuffy hallway, which Good said was "hot as the dickens" - brought him to a Monday meeting of the Routt County Citizens Election Review Committee. The committee was formed to create strategies for improving local elections and is now bringing its ideas to the public in a series of forums across the county.
But very few people are showing up. Routt County Clerk and Recorder Kay Weinland said no one - except for committee members and representatives of local political parties - attended a March 1 forum in North Routt. Good was the only member of the public to attend Monday's meeting.
"I think the committee and those of us working on it are the only ones thinking about elections right now," Weinland said.
Residents of West Routt and South Routt can voice their concerns about county elections at forums tonight and Thursday.
After the forums, the election review committee will finalize its recommendations to the Routt County Board of Commissioners and present a plan for how to meet the goal of voters waiting 30 minutes or less in future elections. The committee's ideas for achieving that goal include raising awareness about early voting, absentee ballots and voting by mail; implementing early voting on applicable Saturdays in Hayden and Oak Creek; increasing voter education about how to use the county's electronic voting machines; and perhaps most important, increasing the number of voting machines and polling locations, or "vote centers," available in Routt County.
Weinland said Centennial Hall in downtown Steamboat will be used as a vote center in future elections, and the Steamboat Springs School District is considering a proposal to allow the county to use Steamboat Springs High School as a "super vote center," which Weinland said could accommodate up to 10 new voting machines.
On Monday, the committee emphasized the importance of options such as early voting or sending in a paper ballot by mail, to help alleviate crowds on Election Day.
"Our goal is to try and change our voters' habits," Steamboat Springs City Clerk Julie Jordan said. "It's our right to vote, but we're going to have to be more aware of how we can exercise that right."
"And we will still need to be prepared for a big turnout on Election Day," Weinland added.
On Monday, Colorado Secretary of State Mike Coffman said election monitors will soon be sent to Denver, Pueblo, Douglas and Montrose counties to address voting problems that arose last November.
Weinland said written comments about local elections are always welcome, and they can be submitted to her office in the Routt County Courthouse on Lincoln Avenue, in downtown Steamboat Springs, or e-mailed to her at KWeinland@co.routt.co.us.