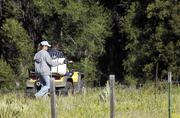 Steamboat Springs — Although they've yet to rear their ugly heads, the weeds are on the way.
To encourage Routt County rural landowners to control noxious weeds this spring and summer, the Routt County Conservation District, in partnership with the Colorado State University Cooperative Extension Service, is offering $62,000 in grants to landowners for the cost of chemical, cultural or biological weed control.
"We have a huge weed problem in Routt County, which is why we've had a weed program for 40 years," said Routt County Extension Service agent CJ Mucklow on Tuesday.
Mucklow said only rural landowners are eligible for compensation because they face the biggest challenge when it comes to dealing with non-native, noxious weeds.
"Most of the weeds we have in Routt County are non-native," Mucklow said. "The goal here is to protect our agricultural viability and the natural ecosystem."
Landowners seeking a piece of the $62,000 pie must sign up before March 30. Funds will be distributed on a first-come, first-serve basis. Any dispersed funds will cover 50 percent of weed control costs, he said.
Landowners can be compensated for chemicals such as pesticides or for costs associated with grazing - such as allowing sheep and goats to eat the weeds.
There are about 14 species of weeds that landowners struggle to control in Routt County. Varieties of knapweed, toadflax and hound's tongue are the most concerning, Mucklow said.
Extension Service and Routt County Natural Resources Conservation Service officials can help landowners identify some of the weeds that will soon start sprouting, and they can offer advice on how to best control weed outbreaks.
"We really target rural landowners," Mucklow said. "It doesn't matter if you have 5 acres or 30 (acres). That's our target population."