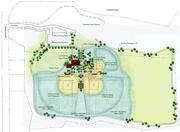 Hayden — Hayden town officials are eager to bring in earthmovers and get started on an $800,000 upgrade to Dry Creek Park.
The Hayden Recreation Board will review the planned park improvements and prioritize the projects and park amenities at 7 p.m. today at Hayden Town Hall.
Hayden Parks and Recreation Supervisor Kathy Hockett said town officials hope to begin accepting construction bids next month.
"We're looking at breaking ground as soon as spring allows," Hockett said.
Some upgrades will begin April 20 when Hayden celebrates Arbor Day. Hayden youths will plant trees at the entrance to the park.
"I think this park is going to be an asset to the community," said Erin Stewart, a landscape architect with Landmark Consultants who is working on the Dry Creek Project. "It is going to be something they take a lot of pride in."
Hockett said Landmark Consultants designed a "complete park," but Hayden residents will have to wait for construction bids before they know how much of the second phase of park improvements can be done with the $800,000 available.
"We wanted finished fields to play on," Hockett said. "The second priority is getting a finished building."
The building will be built to look like the town's historical train depot. That theme, along with other symbols of Hayden's history, will be incorporated into other parts of the park as well.
Some parts of the building may not be finished during this phase, such as a commercial kitchen and office, Hockett said. A shaded pavilion will be attached to the building.
Another new addition to Dry Creek Park will be a large pond. It will be a park amenity, but it also became a necessity because a large amount of dirt is needed to level out the ground where the fields will be constructed.
"We're in need of a lot of fill dirt," Stewart said, adding that planners would be happy to accept dirt and tree donations for the park.