Past Event
Wednesday, March 14, 2007, 3:30 p.m.
Bank of the West, 555 Lincoln Avenue, Steamboat Springs
All ages / Free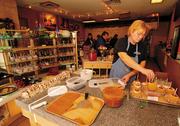 Steamboat Springs — There are strong opinions on both sides when it comes to imposing restrictions on so-called formula stores.
That's good, because opinions are what Main Street Steamboat Springs wants.
Opinions range "all the way from 'we don't want formula stores here' to 'let free enterprise reign,'" said Tracy Barnett, program director for Main Street.
Main Street is soliciting feedback from members so the organization can form an official opinion on a proposed city ordinance that would regulate formula stores. The city's preliminary definition of a formula store is a store or restaurant among a chain of 10 or more that contains these features: a standardized array of merchandise, a standardized façade, standard decor and color scheme, uniforms for employees, and standard signage along with a trademark.
The ordinance goes into much more detail about all of those qualities.
Main Street Steamboat Springs is hosting a discussion on the proposed ordinance at 3:30 p.m. Wednesday at Bank of the West, 555 Lincoln Ave. Barnett asks anyone interested in the meeting to RSVP by calling 846-1800.
Downtown already has a limited number of stores that meet the formula-store definition, said senior city planner Jonathan Spence. They include Overland Sheepskin, Images of Nature, Fuzziwig's Candy Factory, Great Outdoor Clothing, Rocky Mountain Chocolate Factory and Blimpie Subs and Salads.
The draft ordinance does not propose barring new formula stores from opening in Steamboat.
Restrictions being considered include regulating where new formula stores can be located, as to avoid a concentration of them. There would be design standards the stores would have to meet including rules for store signs.
Brad Maxwell owns the Rocky Mountain Chocolate Factory in Steamboat. Although his chocolate store franchise would be considered a formula store, the Steamboat ordinance would not affect him because it is an existing business. But Maxwell says he has encountered formula store restrictions before in Telluride, and he thinks they are important to preserve the "small town feel," which Steamboat still has.
"If it's done properly - like with managing the signage - I don't really have a problem with restricting these formula stores," Maxwell said, adding there will still be a reason for formula stores to locate to Steamboat.
"You have to give the people that come to Steamboat what they want," Maxwell said.
Many people, including Maxwell and Overland Sheepskin manager Brian Day believe formula stores benefit downtown because they attract people.
"Most people see us as a draw," Day said of Overland's 13 stores. "It's the fact we are located in vacation destinations."
The conversation about future formula stores in Steamboat was spurred by the nearly 90,000-square-feet of new commercial space planned for downtown. To visualize that much space, imagine 18 times the space occupied by the 5,000 square foot F.M. Light & Sons sales floor.
"If the town wants to do anything, now is the time," said Ty Lockhart of F.M. Light & Sons. "People do not want the Gaps and the Ralph Laurens, but then there is the question of how many 'mom and pops' will be able to afford that new space.
"The juncture we are at right now is very critical."