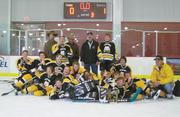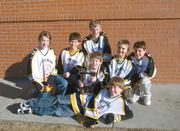 Steamboat Springs — Greg Miyauchi's friends think he's a little crazy - he drives upward of four hours round trip from Grand Lake to Oak Creek for hockey practice.
Sometimes, the Peewee B youth hockey coach drives a little less when the Kremmling Cattle Kings practice in west Grand County.
But for Miyauchi, the trips are all worth it. After the Cattle Kings (15-2-3) - a team made up of kids from Oak Creek, Kremmling and Grand Lake - had a few choice practices together last week, they rolled through the weekend's four-team, double-elimination Rocky Mountain Youth Hockey League playoffs in Eagle. The No. 2-seeded Kings went 3-0 to claim a league championship and earn the No. 3 seed in the Colorado Amateur Hockey Association's four-team state championship playoff this weekend at The Edge Ice Arena in Littleton.
With a win in their semifinal game at 6 p.m. Saturday, the Kings would compete for a championship Sunday afternoon.
Andy Schaffner, former Oak Creek Hockey Association president, said although this year's Peewees are not the first to claim a RMYHL title - an Oak Creek Peewee squad did in 2000 - they are the first to be invited to the CAHA Final Four to contend for a state title.
The Kings started their league playoff run with an emphatic 4-1 win Saturday against Gunnison and an 8-3 win against Crested Butte that featured five goals from Taber Miyauchi and one from Oak Creek's Emily Harris, the only girl on the roster.
Aaron Herzog gave a South Routt goalkeeping performance for the record books in the Kings' Sunday win against No. 1-seeded Telluride. Herzog posted 30 saves as Kremmling shut out Telluride, 1-0.
"We had a good team effort and the bounces went our way this time," Miyauchi said. The team lost a close game to Telluride earlier in the year.
- To reach Dave Shively, call 871-4253
or e-mail dshively@steamboatpilot.com