Mike Lawrence
Call Mike Lawrence at 871-4203 or e-mail
mlawrence@steamboatpilot.com
.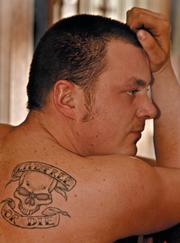 Peter Duguay lives on Sixth Street in a small house a few blocks from downtown Steamboat Springs.
Duguay, 23, works for a local plumbing company. The burly man with buzz-cut hair has the names of his aunt and grandmother tattooed on his left shoulder blade. On his right shoulder blade, wrapped around a skull, is the New Hampshire state motto, "Live Free or Die," a slogan from the Revolutionary War era.
But unlike some New Hampshire natives who bear a similar tattoo, Duguay's is not a gimmick, not a half-hearted homage to a state with a tough-sounding motto.
Duguay takes his tattoo - and the message behind it - very seriously.
He joined the Army when he was 17, straight out of high school in the small mountain town of Lincoln, N.H. He served in Iraq from January 2004 until March 9, 2005 - two years ago last week.
With the 197th Field Artillery Unit, Duguay conducted transport missions escorting high-ranking officials and supplies across Iraq, Kuwait and Turkey. He constantly traveled through war-torn cities including Mosul, Baghdad, Nasiriyah, Karbala and Kirkuk.
"We lost a few guys there," Duguay said of Mosul. "I was very lucky. But I know a lot of people who weren't lucky."
For Duguay, coming home from Iraq "lucky" means losing 40 percent of the hearing in his left ear and about 50 percent in his right. It means fracturing his back and blowing out one of his knees, for which he has yet to have surgery. It means suffering severe concussions that still give him migraines, and fighting ongoing battles with depression that make personal relationships difficult.
He could be called back for a second tour any day.
"It's always on your mind," Duguay said of returning to duty. "Any plans that you make, they probably won't work out. : The truth of the matter is, we're not going to be out anytime soon. And we shouldn't be out anytime soon."
And that, right there, is the rub for Duguay.
As frustrated as he is with his inability to see a military-appointed psychiatrist or receive medical services from the Department of Veterans Affairs - he can't afford to miss work for the travel to Grand Junction, where he says appointments are backlogged and incredibly hard to schedule in the first place - and as angry as he is with the choices made by President George Bush, Duguay does not demand an immediate withdrawal of troops or argue that his inevitable return to Iraq will be for a lost cause.
What he wants is accountability.
"Watching the news and everything, it's very easy to say that we should be out of there," Duguay said. "But from a moral standpoint, it's very hard to say we should be out of there. We need to hold ourselves accountable for what we have done."
What the United States has done in Iraq, he said, is spread devastation in the name of democracy.
"We've destroyed their education, we've destroyed their markets, we've destroyed everything," Duguay said, sitting at a wooden table in his house and occasionally running a hand over his head, as if to get an itch he just can't scratch.
"There's a whole (lot) of people over there whose lives are on a teeter-totter. I know what their future holds - and right now, it's very grim. : We need to turn the biggest mistake we've ever made into the best solution the world has ever seen."
That kind of a turnaround will take changes at the highest levels of government, Duguay said.
"I don't feel like our government is holding the president responsible for what he has done - there's a different scapegoat for every scandal," Duguay said. "I would never have said anything like this before I went over there, but until we hold our government responsible, we're not going to get the right kind of support from the rest of the world to make the situation right in Iraq."
Duguay remains on active duty until Aug. 30, and then plans to begin two years of inactive ready reserve. He knows that he is almost certain to get called back.
But it's not serving another tour that scares him most.
It's what might happen when he returns.
"My biggest fear is that if I come back here without a leg, who's going to take care of me? I have no faith in the VA system at all," Duguay said. "I've had no help, no care and no rehabilitation - the entire system is failing veterans everywhere."
It's sad and disheartening to hear that from a man like Duguay, in the wake of highly publicized investigations of the Walter Reed Army Medical Center in Washington, D.C.
The full version of New Hampshire's state motto, coined by Gen. John Stark in 1809 as a toast to the anniversary of the Battle of Bennington, is: "Live free or die: Death is not the worst of evils."
Duguay has seen firsthand what the worst of evils might be.
Shipping out
Tim Taylor, who graduated from Hayden High School in May 2006, was deployed to Kuwait on Saturday. He will be there for about two weeks, and then travel to a region near Baghdad.
"I'm very proud of what he's doing," said Taylor's mother, Wanda Peppler of Steamboat.
Peppler said Taylor was home for a brief visit earlier this month.
"He was a little nervous, but he's very ready to use the training he's gotten in the last nine months," she said.
Taylor is a private first class with the Army, serving as a mortarman in a cavalry unit with the Third Infantry Division, Third Brigade.
Peppler said she should have a mailing address for Taylor within two or three weeks. She can be reached via e-mail at wrpeppler@yahoo.com