In memory
In lieu of flowers, people are asked to please send donations in memory of Paul Maniaci to benefit search and rescue teams in Teton County, Idaho; Teton County, Wyo.; and the Gunnison area. People can make checks payable to the Paul Maniaci Memorial Fund and send them to Wells Fargo Bank at PO Box 774888, Steamboat Springs, CO 80477.
A memorial service will be held in Gunnison in a couple weeks, but Paul's wife Jessica Maniaci, also known as Jessica Gray, and her family will be returning home for an open house from 5 to 8 p.m. Wednesday, Thursday and Friday at the home of Nancy and Gary Gray at 48 Maple St. All who want to remember Paul are welcome to attend.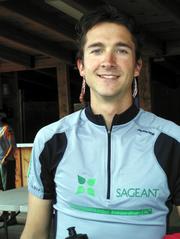 Paul Maniaci was an experienced backcountry skier equipped with the necessary avalanche equipment Saturday, but preparation could not save his life.
Buried beneath four feet of snow after fracturing his neck in an estimated 1,500-foot avalanche slide near the Jackson Hole, Wyo., area, Maniaci, 24, was pronounced dead at 6:05 p.m. Saturday by search and rescue units after not responding to any life saving measures, said Sgt. Kelly Wells with the Teton County Sheriff's Office.
Maniaci, a teacher with the Yampa Valley High School, the county's alternative school, and the Steamboat Springs School District, would have turned 25 on Sunday.
Paul was skiing with his dog Mica and his brother Pete Maniaci on a southwest-facing slope near the Wind Caves in Darby Canyon when Pete felt the snow beneath his feet settle.
The slope fractured about 10 yards above Pete. Paul was standing about 20 yards below his brother, the Teton County Sheriff's Office said in a press release.
Both men, who were traveling up the mountain toward the summit, were swept down the ravine by the avalanche, Wells said.
Avalanche danger in the area was low in the morning, but the Bridger-Teton National Forest Avalanche Center, which estimated the length of the avalanche slide at 1,500 feet, changed the danger to moderate by late afternoon because of warm temperatures, Wells said.
Once the avalanche stopped, Pete was able to free himself from the snow and skied down the mountain to search for Paul using an avalanche beacon.
Pete located his brother at approximately 5:10 p.m., nearly 10 minutes after the avalanche was reported, but Paul was not breathing and a pulse was not detected, the press release said.
Pete performed CPR until search and rescue units from Teton County in Wyoming and Teton County in Idaho arrived on scene.
Wells said the area where the Maniacis were skiing is close to the Idaho border, so it's a popular backcountry spot for Idaho residents.
Pete lives in Driggs, Idaho, where Paul's wife, known by many in Steamboat Springs as Jessica Gray, was gathered with their families Tuesday.
Jessica, a Nordic ski coach with the Steamboat Springs Winter Sports Club, had been skiing with Paul and Pete earlier Saturday, but had returned to their vehicle. She was at the vehicle when she was told what had happened by Pete's girlfriend, who reported the avalanche to the Teton County Sheriff's Office in Wyoming.
Due to the high avalanche danger, difficult terrain and safety issues of operating the helicopter in the darkness, search and rescue units were unable to recover Paul's body until Sunday, Wells said.
"Members of search and rescue stayed with the body overnight," Wells said. "Sometimes because of the conditions it's the safest way to do it."
Mica, Paul and Jessica's dog, also spent the night with Paul's body.
"They had trouble getting the dog from the scene," Wells said. "My heart goes out to the family."
Teton County Coroner Bob Campbell ruled cause of death as trauma and suffocation.