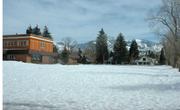 Steamboat Springs — The grass lot adjacent to the George P. Sauer Human Services center sits vacant, and Soda Creek Elementary School still stands, but progress in the Steamboat Springs School District's effort to temporarily move the staff and students while a new Soda Creek is being built continues.
The district's owner's representative Todd Ficken gave the Steamboat Springs School Board a brief update of the district's construction projects at its March 5 study session.
Ficken told the board the district successfully ordered 11 modular classrooms that will be placed on the empty grass lot on Seventh Street.
The district is going to lease one-year-old modular classrooms from Williams Scottsman for approximately half the cost of what it would take to order new ones, Ficken said. The final terms of the lease agreement with Williams Scottsman are being worked out, so Ficken wasn't certain of the final cost.
"The rate is a function of how long you have them," Ficken said.
The company also will set up and take down the modular buildings for less than other companies, he added.
"It's a great deal," Ficken said. "They are laid out almost as we wanted, but we will have to build special ones."
The district plans to build custom modulars for restrooms and art and another for a team teaching.
The district looked into ordering new modular classrooms, but Ficken was able to find one-year-old buildings being used by schools in Park City, Utah. The Park City school district was planning to get rid of its modulars at the end of the school year, so the timing worked well for Steamboat.
"We weren't thinking in terms of used modulars. so it is good news," Superintendent Donna Howell said. "It certainly helps."
Howell said the district is keeping a watchful eye on rising construction costs in Steamboat, most notably the recent bid for the Steamboat Springs Community Center that came in more than $1 million over budget.
Taxpayers approved a bond issue in November 2006 to give the district approximately $30 million to build a new Soda Creek, relocate Soda Creek to the Human Services Center during construction and to expand and renovate Strawberry Park Elementary School.
With rising construction costs in mind, the district decided to include the Steamboat Springs Middle School renovation, which originally was a separate project, with the other construction projects in the hopes of receiving a better bid.
"We went out to bid this one middle school project and it came in pretty high," Howell said. "Anytime we can save a little bit, it helps."
Ficken told the board soil studies of the construction sites are complete, and a wetlands overlay at Strawberry Park is finished, revealing that the expansion on the west side will not interfere with the existing wetlands.
- To reach Melinda Mawdsley, call 871-4208 or e-mail mmawdsley@steamboatpilot.com