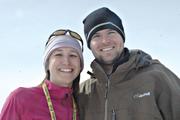 Steamboat Springs — Laura Allaire will always be a Sunshine Kid.
She participated in the 1993 Sunshine Kids Winter Games as a young girl from Chicago. Now 26, Laura has been cancer-free for nearly a decade, but her draw to the Sunshine Kids remains so strong that she urged husband Dennis to accompany her to Steamboat Springs last week for the 20th annual Sunshine Kids Winter Games.
The Allaires recently purchased a second home in Steamboat, so it wasn't as if Laura had to drag her husband onto the cross-country flight from Boston.
The couple volunteered during last week's activities with the Sunshine Kids, and although Laura and Dennis helped make sure the 30 young participants were comfortable, perhaps Laura's most important asset was being an example. She is proof that children can survive cancer.
Laura was just 12 when she was diagnosed with Hodgkin's lymphoma. In the early- to mid-1990s, advancements in treating children with cancer were being made, but Laura admits the progress within the past decade has truly changed lives. She should know.
She graduated from Boston College with a degree in nursing and is now an oncology and hematology nurse with Brigham And Women's Hospital in Boston. Once a cancer patient, Laura now works with others, mainly adults, inflicted with the disease.
"While I was sick, I loved my nurses, and that got me interested in nursing," Laura said.
Laura met Dennis during their first week of school at Boston College and they quickly became friends. They started dating their sophomore year and married in August 2005. Dennis said Laura, who still has mandatory annual checkups, has never kept him in the dark about her past.
"We were really good friends our freshmen year, so I vividly remember her telling me about her cancer," he said.
Laura receives newsletters from The Sunshine Kids Foundation. When she read that this year's Winter Games were being held in Steamboat, Laura asked Dennis to spend their vacation volunteering - and skiing - with the Sunshine Kids.
"We watched the tape of her experience before we came out," Dennis said.
Laura has not forgotten the winter of 1993. During her week-long stay in Aspen, she took her final chemotherapy pill, which her nurse "made a big deal." She also met other children fighting cancer.
"Sunshine Kids gave me a positive outlook on the whole experience," Laura said while she and her husband waited for the Winter Games to start.
Now healthy and happy, Laura still remembers being a Sunshine Kid in ski boots.
"Cancer is what brought them together, but it's not the focus of (The Sunshine Kids Foundation)," Laura said. "The focus is on having a good time."