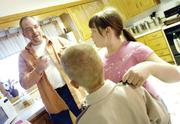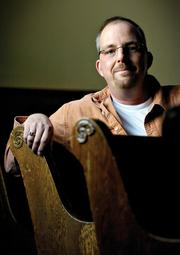 Yampa — Wednesday's family dinner conversation consisted of five of Josiah Chikalla's six brothers and sisters arguing about whether the tie he was adamant about wearing matched his green polo - and if it was even appropriate to wear a tie to his talent show performance at South Routt Elementary School.
"Dad, does this match?" Anna Chikalla asked her father.
"Joe, you don't even need to wear a tie," Maddy retorted.
But Joe had the last word.
"Yeah, I do, Maddy. Just leave me alone. It's like the other night," he said.
Such is life at the Chikalla residence.
The Chikallas, who moved to Yampa in July 2006, are nine total, including two Soroco High School students and five South Routt Elementary School students. Bruce and Audrey Chikalla are the parents to Ben, 2; Jaiden, 6; Keara, 7; Josiah, 9; Anna, 13; Maddy, 14; and Jordan, 16.
Bruce Chikalla is the Yampa Bible Church's new pastor, and he also drives buses for the South Routt School District and volunteers as a firefighter/ EMT for the Yampa Fire Protection District.
"I'd say I'm definitely ready to go bed when it's bedtime every night," he said. "And I definitely lay there for about 20 minutes every morning when the alarm clock goes off."
The Chikallas uprooted their sizeable clan, which also includes a yellow Labrador retriever, from Boardman, Ore., after Bruce was hired as the Yampa Bible Church's pastor.
The move took three days, and the energetic family that can consume 10 gallons of milk a week and rack up a $600 Costco bill every month couldn't be happier.
"We like it here," Audrey said. "It's pretty and we like the snow."
Bruce typically wakes at 5 a.m. to drive the school bus to Burns and McCoy. After making a few other stops, he picks up two very familiar faces.
"It was weird the first time I got on the bus because he was there and it was like, 'Hey, dad,'" said Maddy. "But all the kids like him. They think he's pretty nice."
- To reach Alexis DeLaCruz, call 871-4234
or e-mail adelacruz@steamboatpilot.com