On the 'Net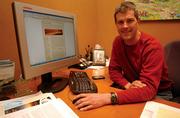 Steamboat Springs — Search Google using the words "Steamboat Springs blog" and a link to Jon Wade's Web site is the second one listed.
"It's something I enjoy doing," said Wade, a broker owner with Colorado Group Realty, who chronicles his life in Steamboat using the blog. "Clients seem to appreciate it."
For Wade, the blog is a way to keep in touch with people, whether they are clients or potential clients. For some of the 50 to 100 people that visit his site each day, Wade said some say: "It's like a quick trip to Steamboat."
One of the keys to being successful in real estate is supplying good information to clients so they can make better decisions.
Wade, who developed his technical expertise while working at Hewlett Packard for 15 years, posts analyses and information about Steamboat's real estate market trends on his blog. He suspects it is read regularly by other Realtors.
But the blog also includes video from his runs at the Steamboat Ski Area, and he lets people know when the area receives big snow.
"Almost another foot Sunday and several more days of snow in the forecast," Wade wrote recently. "I think that we may need help stabilizing the snow; it is getting to be like last year. Can anyone come out and help ski it all so we don't have an avalanche?"
Wade also kept readers current with how the Steamboat Ski Area sale was progressing and reported rumors as well as information he gained from his sources.
And he shares his family life.
A recent post included video of his wife Wendy riding a mechanical bull during the Marabou Ranch Winter Festival.
He also celebrated the holidays with his readers as well as his daughter's first birthday. He also posts video from quality skiing time with his son, Alden.
"He kind of takes you into his family and all that he's doing," said Michael Sudit, one of Wade's clients who visits the blog a couple times a week.
Sudit, a part-time resident who lives primarily in Minnetonka, Minn., said Wade takes a totally different approach to the real estate business, and Sudit said the blog is a good tool for him to keep up on what is going on in Steamboat.
"He's an incredibly bright guy," Sudit said. "He's almost like the ambassador to Steamboat."
Gary Slavney of Memphis has visited Steamboat a couple times and does not consider himself a regular reader of blogs - except for Wade's. He is not in the market for Steamboat real estate, but happened to stumble upon Wade's blog and now reads it on a regular basis.
"In my opinion, he presents an unfiltered view of what it's like to live in that type of place," Slavney said. "It's the life that he's living and that's what's important. He's obviously proud of his family."
Wade said he does not have a template for what he posts and the blog does not generate that much new business, but there is potential.
"It's not a super business-focused blog," Wade said. "It's almost a mix. I don't know how it comes across, but hopefully it comes across that I'm a good guy."
- To reach Matt Stensland, call 871-4210
or e-mail mstensland@steamboatpilot.com