Photo Gallery
Leading men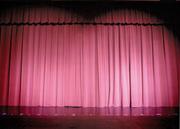 Steamboat Springs — Ryan P. Browning thinks male athletes could not keep up in a ballet class.
"On the whole, dancers are the strongest people in the world," said Browning, a Steamboat Dance Theatre dancer and choreographer, who also dances professionally. "Men are finally realizing that it's time to put down their sports equipment, put on some dance shoes and become a man."
With the rising popularity of shows such as "Dancing With the Stars," the image of male dancers is changing nationally and locally.
"When you see someone like Patrick Swayze in 'Dirty Dancing,' men realize dancing can be hot, sexy and beautiful," said Julie Tucek, choreographer and artistic director of the dance theatre. "It's exciting to see that male energy on stage. In the four years I have been dancing with the (dance theatre), men have wanted to come in and do more complicated things than in the past."
Tucek said music videos also have helped.
"The male dancers are just as strong and fast-paced as ever and that even comes through in the form of hip-hop," she said. "Dancing is also becoming more complicated and intricate."
A movie sparked Charles Horton's interest in dance 15 years ago.
"I saw a movie about these little old couples in South America dancing the tango. It was nothing fancy, but they looked beautiful together," he said. "I wanted to be able to do that when I'm 80."
Horton has been teaching ballroom dancing in Steamboat Springs for four years, and he specifically addresses men's concerns in his classes.
"Yes, it is a little hard to learn when you've been trained to be manly and not wiggle your hips and all those stereotypes," he said. "It is just learning to be in tune with your body and how you move. Our culture does not instill that in us."
Learning to dance has changed the way Horton interacts with the world.
"I can't understand why more men don't do it," Horton said. "There are women out there who want to dance with you. It's not about sex at all - it's about interacting with another human being, and that conversation of moving together."
Aaron Namura was enrolled in ballet, tap and gymnastics classes by his dancer mother when he was in third grade. He is now realizing the value of his training.
"If a guy can dance, that's more admirable and impressive than anything else," he said. "It's more important than having money or being the all-state quarterback in high school. I don't have much going for me, but I can dance."
When dancer Mauricio Clavery, who has performed in numerous ballet and dance productions in Steamboat, began dancing in Mexico at the age of 16, it was often assumed he was homosexual.
"People would ask me, 'Why do you want to be a dancer? You're not gay,'" he said. "Thank God my family had an open mind."
Tucek said most of the men she danced with in her professional career were straight, but that sexuality really did not matter.
"Women love men who can dance," she said. "It's such an amazing power in that it's breathtaking to see."
Browning views dancing as a way for him to stay flexible and healthy.
"It's sexy, and men don't get a chance to be sexy," he said. "When you have a 90-pound woman in scantily clad outfits draped all over you - what isn't sexy about that?"
Ryan Houck dances because of the challenge of it.
"It makes your mind think in a different way," he said. "And it's a fun way to get exercise."
Pursuing an exercise technology degree is what introduced Kent Nightwalker to the world of dancing. He then went on to graduate with a performing arts degree with an emphasis in dance, and made dancing a career from 1987 to 1997.
"It's like a sport to me and it takes a lot of brain power, and you have to practice a whole bunch. It's a thinking man's exercise," he said. "I think about what a great thing it's done for me and how confident I feel about myself. It's probably unfathomable for a lot of people how rewarding if is to dance for the Dance Theatre - I don't feel like I missed a thing in my life."
- To reach Allison Plean, call 871-4204
or e-mail aplean@steamboatpilot.com