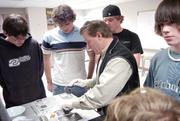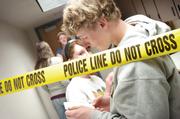 Steamboat Springs — Johnny Montana was at his Steamboat Springs home, probably making dinner, when someone bludgeoned him to death with a lug wrench Feb. 26.
Dishes and a window were broken, and there was blood by the refrigerator.
Someone called the police.
But instead of handling the case themselves, Steamboat Springs Police Department investigators turned it over to a group of Steamboat Springs High School biology sophomores. It was up to the students to investigate the mock crime scene, preserve evidence and determine who committed the crime.
On Tuesday, Steamboat police Detective Jerry Stabile sat on top of a table in Bennett Colvin's science class, questioning the students about what they found and what they were going to do next.
Students were divided into teams that included lead investigation, sketch, photography, evidence custodian and specialist. The same teams are used by real law enforcement agencies while investigating such crimes.
"By exposing them to a mock crime scene, the kids have been able to see that the techniques they see cops using on 'CSI' and shows on TV are real, but with Hollywood's touch," Stabile said. "Our hope is that the kids are getting a better understanding of what police work involves and that there is a lot of science behind it."
This was the first year officers with the police department, which routinely works with school students in a variety of capacities, set up the crime scene to compliment the DNA and genetics curriculum the students were learning.
Teacher Cindy Gay said the students were excited to learn they would be participating in the activity.
"It takes something that seems sexy on TV and de-mystifies it," she said. "In the end, it makes them more critical consumers, and it makes them smarter. They're less likely to be dazzled by the glitz of DNA and police work on TV if they've actually done it."
Sophomore Hanna Berglund, who was assigned as a lead investigator, said she "really got into" the work.
"What we've been doing is way more realistic," she said. "It makes 'CSI' seem so fancy and high-tech."
Fellow lead investigator and sophomore student Josie Pacana agreed.
"I'm addicted to 'CSI,' so it's been interesting to see how much work actually goes into an investigation," she said. "It's been a lot more interesting than just taking notes."
As for who committed the crime - the investigation is ongoing, and the team expects to complete it this week.
- To reach Alexis DeLaCruz, call 871-4234
or e-mail adelacruz@steamboatpilot.com