Photo Gallery
Sunshine Kids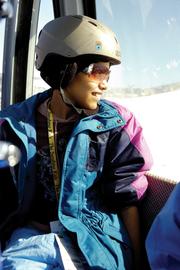 2007 Sunshine Kids
Jessica Yi, 12, Charlotte, N.C.
Emani Alexander, Charlotte, N.C.
Justin Pence, 14, Harrisburg, N.C.
Spencer Ricks, 15, Rock Hill, N.C.
Erasmo (J.R.) Gonzalez, 15, Elsa, Texas
Niya Jackson, 13, Houston
Mickey Martinez, 15, Conroe, Texas
Devon Graves, 16, Magnolia, Texas
Gabrielle Wethor, 12, Bellevue, Neb.
Bryan Arcos, 13, Columbus, Neb.
Gabriel Morales, 16, Lincoln, Neb.
Halee Melgoza, 12, Grand Island, Neb.
Elizabeth Stauffer, 16, Malvern, Penn.
Andrew Quinn, 14, Egg Harbor Township, N.J.
Devon Betz, 15, Levittown, Penn.
Fernando Vargas, 15, Phoenix
Geovany Diaz, 17, Phoenix
Aaron Patterson, 14, Granger, Ind.
Mirnes Tursunovic, 12, Mishawaka, Ind.
Austin Rusnak, 18, South Bend, Ind.
Louis Price, Elkhart, Ind.
Dalton Barnes, Bristol, Ind.
Kelsey Tesmer, 12, Lithia, Fla.
Diana Quyano, 13, Tampa, Fla.
Shadreana Gaines, 15, Tampa, Fla.
Brandi Redmond, 16, Plant City, Fla.
Ryan Campbell, 15, Toronto
Brad Hyndman, 15, Garson, Ontario, Canada
Zachary Pearson, 14, Georgetown, Ontario, Canada
Bryan Rayner, 16, Innisfil, Ontario, Canada
Steamboat Springs — It is a question no child should have to ask and a question no parent should have to answer. But Malcolm Gaines remembers, on more than one occasion, his daughter Shadreana wondering out loud, "Daddy, am I gonna die?"
It was an honest thought from the heart of a teenage girl who had a tumor the size of a golf ball removed from her brain.
Shadre - as family and friends call her - could have died, a frightening reality doctors made clear to her parents. When Ginger Gaines asked the neurosurgeon, "Is she going to live?" and the doctor responded, "I couldn't tell you that," she struggled to find her breath.
But leave it to Shadre to amaze even the most experienced neurosurgeons. When doctors split open the back of her head in January 2006 to remove the malignant tumor, instead of having to carefully remove the tumor in pieces, the doctor put a scalpel to the growth and it literally peeled away in one solid piece. The doctors later told Shadre they had never seen anything like it before.
The surgery was successful, stopping the cancer before it could spread down her spinal cord.
Snow elephants
Just more than a year later, Shadre, 15, was one of 30 children in Steamboat Springs last week for the 20th annual Sunshine Kids Winter Games. The Sunshine Kids Foundation is a national nonprofit organization based in Houston that provides children with cancer an opportunity to participate in fun, group activities free of charge.
For the second consecutive year, the Sunshine Kids came to Steamboat for a week of food, skiing and other activities such as tubing and snowmobiling.
Some of the children who came to Steamboat had seen snow before. A few had even skied. But many, like Shadre, who's from Tampa, Fla., were winter sports rookies.
"I've seen snow, but I've never got to play in it," she said.
Shadre was paired with David Wikman, a ski instructor with the Steamboat Ski Area and the executive director of Steamboat Training Adaptive Recreational Sports. With Wikman's help, Shadre learned to ski and crack jokes with everyone who passed by.
"Look over there," Wikman said to a group riding up the gondola Wednesday. "If you look close you can see the snow elephants."
Two members of the group turned and asked, "Where?"
The women turned back around, and although Shadre's eyes were hidden behind oversized, tinted frames, nothing could cover her smile. She got the joke. There's no such thing as snow elephants.
"She was the child I was worried about the most," said Tylee Rodriquez, Shadre's nurse from Tampa, who accompanied her and three other girls from Florida to Steamboat. "She's fragile. She's quiet, but everyone loves her. She has really come out of her shell."
Rodriguez credited Wikman for much of that transformation. Equal parts instructor and the goofy guy next door, Wikman calmed Shadre's nerves about skiing by introducing her to George, a skier aide designed to help novices who lack balance and strength.
Shadre, with skis locked in, placed her arms atop George and held on tight as Wikman guided them down the mountain on daily runs.
With George, "we can work on independent foot action," Wikman said. "Part of the program is to get her comfortable so she can ski on her own."
On Thursday - the fourth day of lessons and the first time Shadre had ever seen snowflakes fall from the sky - she asked Wikman to let go.
She skied down the Why Not trail on her own. She was still supported by George, but her legs made the turns. Her strength held her up. Wikman used his digital camera to record video of the moment so he and Shadre will remember it the rest of their lives.
"I am very proud of myself," Shadre said.
She didn't ski on her own for long, but that wasn't important. She had set a goal to ski on her own, and she did it.
Why Not is a two-mile trail for beginners, and Shadre had to stop frequently to rest her sore and tired muscles. She spent more than a month in a hospital bed, and intense drug treatments during the past year have left her body weak. Her muscles still are atrophied.
The strength in her legs is slowly returning. Still, she often needs help walking because her legs can't support the rest of her body, and she struggles with her balance. It's for these reasons her solo ski feat arguably was the biggest physical accomplishment in her recovery.
"The only thing I was really nervous about was the skiing, but I'm not nervous about that anymore," Shadre said about her trip to Steamboat.
Symptoms of cancer
The doctors told Shadre the tumor on her brain started growing when she was three. Looking back, the family says, there were signs of the cancer.
Shadre complained of headaches, sometimes throbbing, migraine-like headaches. She also would walk into lockers or walls for no apparent reason.
"I would laugh," Shadre recalled.
Everything changed in January 2006.
Persistent nausea, headaches, a low body temperature and complete loss of balance sent Shadre to the doctor three times in one week.
On the first visit, Shadre was prescribed antibiotics. On the second visit, she was hooked up to intravenous fluids. The third time around, doctors ordered a CT scan.
"The doctors told us not to let her sleep," Ginger said. "The doctor called within an hour after the CT scan and asked how quick we could get to the hospital. I said 20 minutes. Me being a nurse, I thought (Shadre had) fluid on the brain. Never did I think a tumor."
Ginger and Malcolm were greeted at the hospital by a team of doctors, including a neurosurgeon, who operated on Shadre for eight hours. If Shadre survived surgery, the doctors said, there was a chance the eighth-grader would have to re-learn how to read, write and talk.
"After surgery, when she came out and said, 'Daddy,' Malcolm dropped to his knees," Ginger said.
Shadre was in a lot of pain after surgery. She had double vision and didn't have full use of her hands and legs, but her brain survived. She survived.
"It was good I got sick," Shadre said, referring to the original trips to the doctor. "Otherwise, I might have gone to sleep and never woke up."
Shadre spent more than a month in the hospital recovering from surgery. It was a tumultuous several months for the family. Ginger was diagnosed with ovarian cancer in November 2005. Doctors removed all of it. When Malcolm was driving home to pick up a change of clothes after Shadre was moved from the intensive care unit, he rolled his SUV three times, but he survived.
Malcolm later lost his job because of "excessive absenteeism." He said his employers knew his daughter was fighting for her life. He still is unemployed but "searching and looking" for jobs in Tampa.
Shadre blamed herself. Malcolm told his daughter her health was more important to him than any job.
"The hardest thing for me is my daughter does not feel like she's normal," Malcolm said. "People tend to want to stare. I explain to her it's human curiosity, but she doesn't understand. She never did those kinds of things when she saw a child who was special."
Shadre prayed before surgery, telling her mother that God would take care of her. She's insistent that she'll make a full recovery.
But Shadre misses school and her friends. She left her middle school shortly after her diagnosis. She hopes to return soon.
"I have a MySpace page so I can see my friends, because I haven't seen them in like a year," Shadre said. "I haven't been going back to school since I got sick."
It was the social interaction Shadre would be part of with fellow Sunshine Kids that convinced Malcolm to let go of his fears about letting his daughter come to Colorado.
"This trip was hard for me because she was going to be away from me," Malcolm said via telephone from Tampa. "I had to immediately cut off my feelings. I'm glad she got a chance to get away and be with other kids."
Miracle work
Prudential Real Estate Affiliates is the national corporate sponsor for The Sunshine Kids Foundation, so Prudential Steamboat Realty was thrilled to help plan last week's activities.
"More than anything, we make them feel welcome," said Cameron Boyd, broker/owner of the Prudential Steamboat Realty office. "It's tough when you get there around those kids and see what they are going through. It's not supposed to happen to kids."
The trip was free for all the Sunshine Kids, and several area businesses stepped up to help make the children's stay memorable. The Sheraton Steamboat Resort offered lodging. The Steamboat Ski Area provided lift tickets, lessons and rentals. Black Tie Ski Rentals gave the children appropriate ski and snowboard gear.
Johnny B. Good's Diner closed its doors to the public one evening so the Sunshine Kids could have all the food they wanted without interruption. Saddleback Ranch took the children on snowmobiles, tubes and a sleigh ride.
"Everything was amazing," said Jennifer Wisler, director of children's services for The Sunshine Kids Foundation. "It was really the people we worked with who came through with amazing opportunities."
The Rocky Mountain Cancer Center provided supplies and testing, when necessary, although most children were strong, healthy and able to ski all week.
"This is treatment," Rodriguez said, referring to the week's activities. "I think the kids feed off each other."
The week ended Friday with a "Winter Games" race on Headwall and a party later that night. The ski area's race crew set up slalom gates, so the children could show off what they learned all week.
Each child who wanted to ski or snowboard took his or her turn going down the mountain. Wearing bib No. 24 was Shadre and George. Wikman followed close behind.
"Was I doing good?" Shadre asked after the race.
"You were," Wikman said as he took off her ski boots.
Then, the two started talking about future plans together. Wikman wants to open up more recreational opportunities to those with special needs and those who require assistance to enjoy the outdoors.
Now that Shadre has learned to ski, her sights are set higher. She has two chemotherapy treatments left and should be done with medication in July.
"I'm coming back this summer to go canoeing, fishing and camping," she said. "I hope my parents come with me."