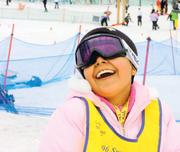 Steamboat Springs — One week in Steamboat Springs changed Guadalupe Sorchaga's life.
The 14-year-old from Los Angeles met children from across the country who were just like her - in a battle against cancer. But she also learned to ski, and she even tasted snowflakes for the first time.
When "Lupe" returned to California after her weeklong stay with the Sunshine Kids last year, she told her doctors, nurses and peers all about her vacation to Northwest Colorado.
She didn't have a chance to return. Last year, Lupe died from cancer.
Steamboat Pilot & Today photographer John Russell spent an afternoon at the Steamboat Ski Area in March 2006 with the Sunshine Kids and captured an image of Lupe smiling after she hit her ski instructor with a snowball.
Although many of the children who have taken part in the Sunshine Kids Winter Games will survive, Lupe serves as a reminder that cancer, even in children, is unforgiving.
Jennifer Wisler, the director of children's services with The Sunshine Kids Foundation, met Lupe last year while in Steamboat. She wants Steamboat residents to know Lupe's mother framed the newspaper photograph. Wisler also said that in Los Angeles, a city far removed from the isolation of Northwest Colorado, Steamboat is on the lips of doctors who tell patients about Lupe's bravery and sense of adventure, both of which came out during a weeklong stay in Steamboat Springs last winter.