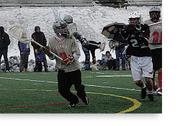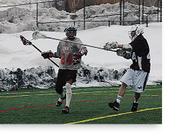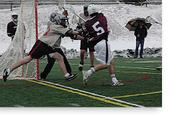 Steamboat Springs — The Steamboat Springs boys team brought Golden up Saturday for a little ski town lacrosse, complete with frigid rain that became snow before the final whistle.
Unfortunately, the Sailors' play was at times like the weather - a little sloppy.
Golden dominated the game with an aggressive defense and a slick veteran attack unit, winning 12-1.
"I thought they weren't anything special," Steamboat goalie Scot Forney said. "Still, they just out-played us, out-hustled us, out-passed us. I think we should be able to play in this wet and gnarly weather more than they should."
Golden's Lucas Noble ripped a bounce shot past Forney two minutes in to establish a lead his team would hold on to the rest of the game.
Steamboat generated a couple scoring opportunities, but could not find the net. Golden found out early they could extend out to create turnovers.
"They locked us off and shut us off," junior attackman Kevin Bertrand said of Golden's defense.
On the defensive end, Steamboat had trouble preventing Golden from finding easy looks inside as Golden extended its lead to 6-0.
"They were moving the ball around and got us out of position and we couldn't recover," Forney said, noting the absence of senior defensive leader Joey Melius.
Forney kept the game from getting away, ending the half with one his 12 saves.
"It took us a while to get the kinks out, but that Steamboat goalie did a hell of a job," Golden coach Mike Thuman said.
The Demons' attackmen began picking holes in the Sailors' man-down defense in the second half, jumping up, 11-0, before Steamboat's Chase Grippa got ahead of his man and buried a shot, during which the head of his stick flew off.
Referees called the goal back because of the broken stick, but the Sailors' young offense carried the momentum into the final frame. They strung together their best possessions of the game and got on the board for good when Gus Worden found Tyler Ostrom curling from behind the goal.
Coach Bob Hiester was pleased with his players' steady improvement and overall effort over the past two games against schools with double Steamboat's enrollment.
The losses weighed heavier on the players.
"I'm going to put a lot of that on myself," said senior defenseman Alex Centner, already looking ahead to high-intensity practices before Steamboat's next game, Friday at Monarch. "Now we're going to be practicing at my pace."
- To reach Dave Shively, call 871-4253
or e-mail dshively@steamboatpilot.com