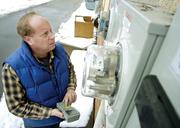 Steamboat Springs — Steamboat Springs residents and others across the nation will spring their clocks forward one hour Sunday morning, a month sooner than daylight-saving time typically occurs.
Thanks to Congress' Energy Policy Act of 2005, daylight-saving time is beginning three weeks sooner than it normally does and extending one week longer.
Residents should set their clocks ahead one hour at 2 a.m. Sunday or before going to bed Saturday night.
Jim Chappell, spokesman for Yampa Valley Electric Association, said most people don't understand daylight-saving time began in 1918 as a way to conserve energy by "making" the sun set one hour later. The extra hour of sun reduces the amount of time people are using electricity for lighting and appliances, he said.
"Individually, I don't know if consumers see much of a difference in their utility bills, but as a whole, conservation is large," he said.
YVEA officials encourage residents to not only set their clocks forward Sunday, but also to change batteries in smoke and carbon monoxide detectors and to replace incandescent light bulbs with compact fluorescent bulbs.
"While you've got the ladder out to change the clocks, you can change all the batteries in your detectors and change out incandescent bulbs to compact fluorescent bulbs," he said. "Switching to energy-efficient bulbs can save you money and save the environment."
While losing an hour of light in the morning might not make a difference to some, for skiers and snowboarders gaining an hour of sun in the afternoon means spending more time on the slopes.
Heidi Thomsen, public relations manager for the Steamboat Ski Area, said the Ski Area has already extended some lift operation hours for the spring, which the Ski Area does every year.
"For some people, having a few of the lifts open an extra 30-minutes or so is significant," she said. "It gives people the opportunity to take an extra good, long run."
Southface lift now closes at 4:30 p.m., and the gondola, Thunderhead, Bashor, Preview, Christie III and Elkhead lifts are all open until 4 p.m.