Past Event
Saturday, March 10, 2007, 3 p.m. to 5 p.m.
Tread of Pioneers Museum, 800 Oak St., Steamboat Springs
All ages / Free
Photo Gallery
Suzy Holloran's pastel paintings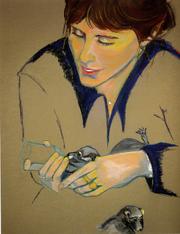 Steamboat Springs — Suzy Holloran decorated the walls of the Utterback House of the Tread of Pioneers Museum with her pastel paintings, but the women she portrayed set the stage.
"The main reason people should come (to the "Lilies of Our Valley" art show and reception) is to meet the women," Holloran said of the women she painted. "These women shaped the way the Yampa Valley is today for the rest of us. They were the pioneers who set the stage so to speak."
Holloran illustrated the book, "Lilies of Our Valley," for writer Marles Humphrey. They choose 10 women to feature who embodied the spirit of our community.
"We thought we'd start with women because we're women, and to me there is a lot written about the cowboys and the men of the West," Holloran said. "There doesn't appear to be as much written about the women, who are like our unsung heroes."
Holloran took photographs and notes on the women's mannerisms, skin tone and eye color while Humphrey interviewed them.
"When I got back to my studio, I put up their pictures around the studio," she said. "And I tried to think about their stories, and that's how I recreated them."
Holloran included the women's animals, daughters or artifacts in the paintings that represent a part of who they are.
Holloran and Humphrey also included Pam Burwell, a professor at Colorado Mountain College, who has a strong relationship with the Ute Indians.
"The Ute history is really the magical essence of this valley and is what brought us here on an unconscious level," she said. "The valley has a certain mystical power and I think it started with the first inhabitants, which were the Utes."
Holloran also painted a picture of each woman's homestead.
I wanted to show where they live because it shows a little part of who they are, she said. "They say your house always says so much about who you are."
Most of the women who were featured in "Lilies of our Valley" will be present at the art show and reception. The women who were highlighted in the book include Elaine Gay, Cookie Lockhart, Tracy Bye, Dona Vold Larsen, Brita Horn, Megan Sisk, Ida Younger, Jo Stanko, Natalie Stanko and Burwell.
"I just admire their spirit and ability to always maintain a positive persona while enduring some significant hardship, as we all do in our lives," Holloran said. "These women - to me - are who I would like to be."