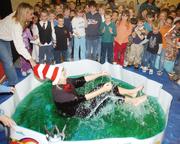 Hayden — Green eggs and ham wasn't on the lunch menu at Hayden Valley Elementary School on Thursday, but there was a big pool of green Jell-O awaiting school administrator Rhonda Sweetser.
Each of her 171 students was challenged to read a Dr. Seuss book in early February, joining students across the country in celebrating Dr. Seuss' birthday, which was March 2nd.
"We said if they all read a Dr. Seuss book then Mrs. Sweetser would jump into a tub of Jell-O," said paraprofessional Ruby Wertenberger, who helped organize the challenge with Angela Letlow.
Students welcomed the idea of having their building administrator jump into Jell-O.
"We thought it would look cool," said second-grader Trenten Mitchell.
Sweetser kept her word and took the plunge Thursday afternoon.
"It's a good thing I love these children," Sweetser said.
It was hard for her to believe all the students met the challenge.
"I'm still questioning the 100 percent," Sweetser said, drenched in green sticky liquid. "I want a recount."
Students chanted "Jell-O jump" before the start of the "virtue assembly," during which several students put on a play about honesty.
"They're a little excited," Sweetser said as the children took their seats on the gym floor.
After the play, Kathy Deepe announced: "It's Jell-O time." The gym full of kids erupted in screams.
The students sang a Dr. Seuss song and waited while Sweetser finished changing out of her administrator clothes into sweats and a "Cat in the Hat" hat.
Sweetser then led her students in a Dr. Seuss dance while she stepped into the pool and eventually took a seat.
"It was pretty funny," said second-grader Tyler Hockaday. "You usually don't see her in sweatpants, no socks and a Dr. Seuss hat."
In addition to the school-wide Jell-O challenge, the single class of students that read for the most minutes won a class party. Melany Neton's kindergarten class won that challenge. Her students got to watch a Dr. Seuss movie, eat popcorn and eat Dr. Seuss cookies.
- To reach Matt Stensland, call 871-4210
or e-mail mstensland@steamboatpilot.com