Past Event
Sunday, March 11, 2007, 7 p.m.
Steamboat Springs Mountain Theater Company, Ski Time Square, Unit G105, Steamboat Springs
All ages / $10 - $12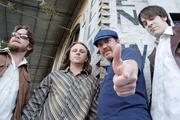 Singing the national anthem in front of 15,000 Atlanta Braves spectators was a surreal experience for Jesse Franklin, who plays guitar, keyboard and organ and sings for Tishamingo.
"I didn't black out. I was just nervous as we walked out towards the first base line, then turned around and faced the dugout and saw the players all sitting there," he said. "It was strange too because there's a full two to three second delay of what you sing to what you hear."
The Georgia-based band will be performing at the Steamboat Springs Mountain Theater at 7 p.m. Sunday.
Tishamingo released its third album, "The Point," last month with a new sound discovered on a writing retreat in Alligator Point, Fla.
"We got tagged with the jam band thing a long time ago and we're not necessarily trying to shed that," Franklin said. "But our third record is more classic rock sounding and straight up rock and roll."
Every song is written from real-life experience.
"There's a song I wrote about a couple ladies in my life and the confusion of what love brings to the table," he said. "Here I am in love and confused, and so on and so forth. I'm coming off as a sensitive artist type, but I am not that."
The band members do wear their influences on their sleeves, Franklin said. Those include ZZ Top, Lynyrd Skynyrd, Aerosmith and the Allman Brothers Band.
Tishamingo got the chance to perform on a three-day cruise with Lynyrd Skynyrd in January.
"The guys were really nice to us and backstage told us stories about the old days. It's really cool to hang out and play a show with some of our heroes," Franklin said. "And it was really cool to look out and see the crowd and a bunch of ocean behind them."
Tishamingo will be busy this summer promoting the record and preparing for a European tour, the band's first tour abroad.
"On any given night of the week, anywhere in America, you can find a band from the South," Franklin said. "But not over there. They really appreciate it and hang on every note you play."