Past Event
Saturday, March 10, 2007, 5 p.m. to 7 p.m.
Schiesser Gallery in Ski Time Square, Steamboat Springs
All ages / Free
Photo Gallery
Darshan Phillips and Aaron Whisner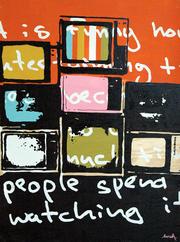 Steamboat Springs — Darshan Phillips does not like to talk politics.
"My point of view as an artist from Oklahoma is not going to affect anything," he said. "If anything, it will make people mad."
Viewers often misinterpret the work of Phillips and his graphic design business partner and fellow painter Aaron Whisner.
"We had this one painting of this boxer who had a black strip across his eyes," Phillips said. "A lady thought we were representing prostitution, but we just put that there because it makes you take a second look."
Their work is obscure and their imagery is subtle, but it catches people's attention.
"We like to paint little guys with suits on and a TV on his head because we like that imagery," Phillips said. "It's funny because I'm sure if you get into the subconscious reason why we do things - there probably is a reason - but it's not like a planned message every time we do it."
Phillips compared their painting style to that of Andy Warhol.
"He painted figures of his time and we use characters that are very influential on the American culture like Bob Dylan, James Brown and Jimi Hendrix," he said. "They are cultural icons that people make a connection with."
Phillips and Whisner have known each other since high school. They opened a graphic design company after college called Live4This, and their work has consequently developed similarities.
"We slowly evolved into graphic designer/artists and have always been involved with each other, so our work has always been similar," Phillips said. "Like if you were going to write with somebody all the time, you would start writing similarly."
Both artists prefer to paint on wood, with a combination of spray paint, latex and acrylic.
"Aaron uses a lot more multiple layers of stencils with multiple colors that develop the image," Phillips said. "Our work is really hard to describe."