Scott Stanford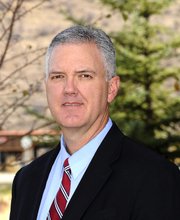 Scott Stanford is general manager of the Steamboat Pilot & Today. Call him at 970-871-4202 or email
sstanford@SteamboatToday.com
I have only myself to blame. I'm the one who decided last year to add Ann Coulter to our ViewPoints pages.
Coulter takes sharp aim at anything she perceives liberal. Big picture is that her column isn't very different from those of others on our opinion pages - she preaches to the converted and deliberately tries to get under the skin of those who are not now, and never will be, in her choir. Small picture is that Coulter is as bombastic as columnists get. She may say the same things as Cal Thomas and Jonah Goldberg, but the way she says them always draws a stronger reaction.
Most times, I am amused at what Coulter writes and surprised that so many take her bait. Imagine the joy Coulter takes in knowing there are readers who can't stand her, yet read her week after week and find themselves getting angrier and angrier. I think that's what she would call a "win-win-win."
There are people who need enemies to give their lives purpose. If they're not beating on their boogeyman, they're not breathing. The hip term for such people is "haters." Ann Coulter is a hater, but so are Rush Limbaugh, Michael Moore, Al Franken, Michael Reagan and Bill Maher, etc.
That said, count me among those who took offense with Coulter's comments last week about Sen. John Edwards. Speaking at the Conservative Political Action Conference, Coulter called Edwards a derogatory term that I won't repeat. If you missed it, a quick search of Coulter on YouTube will do the trick.
My opinion was the remark justified nixing Coulter's column for good. I was ready to explain my decision in this week's column and then take all the backlash about me being a politically correct, liberal pantywaist who just can't handle the "truth."
But before I pulled the plug, I sent a note about my decision to several members of the newspaper staff. I was a little surprised when my co-workers got Coulter's back, sort of:
n Advertising Director Samantha Johnston: "I think the dialogue and the controversy that she sparks is healthy, and for as many people who dislike her, there are those who think she is on point. I don't see any reason to discontinue her column."
n City Editor Brent Boyer: "This is hardly the first time Coulter has overstepped the boundaries of decency (doesn't she do it on a weekly basis?) and it certainly won't be the last. While I rarely agree with anything she writes, I like that she adds a controversial, polarizing voice to our editorial page once a week. I say keep printing her, just as we keep printing Maureen Dowd."
n General Manager Suzanne Schlicht: "While Coulter is never nice, I sometimes agree with her. Although I cannot condone her calling Edwards (the derogatory term) ... I say keep running her."
Are you kidding me? Am I the only politically correct, liberal pantywaist in the house?
Bob Nordyke, the director of news for our owner, WorldWest LLC, said it's important "we don't make a decision solely based on what could be perceived as our own high-minded opinion." He suggested getting "some reaction from people outside our own news bubble." He even suggested letting it be our question of the week - keep Coulter or kick her to the curb?
Bob's advice is always good advice, and if you've made it this far, you've probably figured I'm following it.
There is no Coulter column this week. If you have thoughts on whether she should be in our editorial page mix in the long term, please e-mail, call or write me. And vote in our question of the week about Coulter. It will be online Sunday.
Scott Stanford's From the Editor column appears Thursdays in Steamboat Today. Contact him at 871-4221 or e-mail sstanford@steamboatpilot.com.