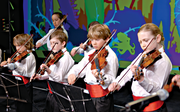 Steamboat Springs — Education Fund Board members aren't quite ready to approve funding for a new youth orchestra and the popular Yampa Valley Science School.
On Wednesday, the Fund Board was presented with funding requests from the two groups, both of which are seeking Fund Board money for the first time. Both programs are open to students from across Routt County.
The Fund Board administers more than $2 million in annual revenue from the city's half-cent sales tax for education, which typically funds programs for Steamboat's public school system.
The youth orchestra, which would be an after-school program held once a week at Steamboat Springs High School, is asking for $20,000 for general operating expenses for the 2007-08 school year.
The orchestra's total budget is projected to be $87,120, and nearly $40,000 of that is budgeted for administrative costs, including $30,000 for "miscellaneous administration," according to the proposed budget.
"I would like to know why administrative costs are as high as they are," Fund Board President Robin Crossan said during Wednesday's meeting.
Fund Board member Jerry Kozatch, who also is a Steamboat Springs School Board member, asked orchestra conductor and coach John Fairlie if there's enough interest from local children to start such an orchestra. Fairlie doesn't think there will be any problem finding a minimum of 25 students to start the program.
"We will have more than that," he said.
The Yampa Valley Science School is seeking $16,000 from the Fund Board. The money would help the school keep student tuition rates at $125 a student. The Yampa Valley Science School is for Routt County sixth-graders and involves a week of interactive study on the campus of Perry-Mansfield Performing Arts School and Camp. Students are fed meals and stay overnight for the week of outdoor classes.
The Science School recently lost funding from AmeriCorps, which is why it is seeking Fund Board assistance.
"If for some reason the full $16,000 isn't available, what are the chances you could ask parents for more than $125 tuition?" Fund Board member Peter Remy asked during Wednesday's meeting.
"We will have to ask for a higher tuition," said Gretchen Van De Carr, executive director of Rocky Mountain Youth Corps, which operates the school. "I hope we don't have to do it, but we will."
Fund Board member Tom Ptach wondered what it would cost to only fund Steamboat Springs School District students who attend Science School. He also wanted to know what financial contributions other local districts make to Science School.
The Steamboat Springs Youth Orchestra also could be a county-wide activity if there are musicians interested in traveling to Steamboat for rehearsal.
Both the youth orchestra and Science School funding requests were recommended by the Educational Excellence Commission. Commission members strongly supported both programs during a meeting held before Wednesday's Fund Board presentation. Wednesday's presentations to the Fund Board were a "first reading"; the Fund Board doesn't vote on a request until it comes forward for a second reading.
The Educational Excellence Commission is one of three commissions that work under the Fund Board and present funding recommendations. Capital and Technology are the other two commissions.
The Fund Board must give final approval for all funding requests.
- To reach Melinda Mawdsley, call 871-4208
or e-mail mmawdsley@steamboatpilot.com