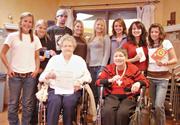 Steamboat Springs — Making homemade fruit pies and scarves is time-consuming, but the months of hard work by Doak Walker Care Center residents and staff have paid off.
The care center raised nearly $800 during a November bake and crafts sale that included such items as scarves, potholders, fruit pies and muffins.
"It was things people could use and buy for Christmas," Doak Walker Care Center resident Bettie Pierce said Tuesday.
On Tuesday, Pierce and fellow resident Joanne Cannon, who made scarves for the sale, presented the Steamboat Springs High School Leadership Class with a $100 check for the Multiple Sclerosis Society and phone cards for U.S. soldiers stationed overseas.
Sophomores Amber Sachs and Shelby Cassle, who are in the leadership class, said the phone cards will go in care packages the class is sending to troops in the Middle East.
Cannon and Pierce said they weren't sure who came up with the idea of having a bake and crafts sale, but they enjoyed being involved in what Doak Walker officials hope will become an annual event.
"It just sort of snowballed," Cannon said.
Doak Walker activity aide Jean Ballard said the staff at the care center made most of the baked goods, and residents chipped in with their own handmade items for the November sale. Others from the community helped out as well.
Planning and preparing for this year's sale will begin in several months.
"It was a lot of work, but it was a lot of fun," Ballard said. "Next year, we are planning for all the money to go to charity."
The care center used some of the money it raised in November for a special buffet meal for staff and residents to enjoy together.
The high school's leadership class was appreciative of the contribution Tuesday. The leadership class is geared toward community service-type projects, Cassle said.
"It's a class to organize events for high school students and organize events outside of school to connect the community to the high school," Sachs said.
- To reach Melinda Mawdsley, call 871-4208 or e-mail mmawdsley@steamboatpilot.com