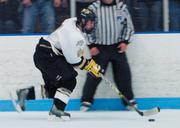 Boulder — Twenty-year-old Daniel Coloccia understands the pressures of mid-term exams at the University of Colorado.
But he isn't about to let a few tests get in the way of his love of hockey - or the chance to play in the American Collegiate Hockey Association's Division II National Championships.
"It's hard. You really have to use your time well, but that's what it's like playing club hockey for Colorado," Coloccia said between classes Tuesday.
This week, the University of Colorado sophomore will have to balance his class load with an occasional trip to Fort Collins if he hopes to help the 26-6-4 Golden Buffaloes club hockey team advance to this weekend's championship game. It's nothing new for Coloccia, who has spent most of his life balancing hockey and school.
Coloccia has been playing the sport since he first stepped onto the ice as a mite with the Steamboat Springs Youth Hockey Association. Since then, he has played hockey with the AAA midget Minor Outlaws and a AAA midget major team in Littleton. He returned to Steamboat in 2005 to finish his prep career as a member of the Steamboat Springs High School team. That year, he was a team captain and was named to the All-State team.
This week he will be a part of the Colorado team playing in the ACHA Division II National Championship, a 16-team tournament. If the Golden Buffaloes are to play in Saturday's championship round, they first will have to win their pool.
"There are 163 club teams across the nation," Coloccia said. "Some of them are weak organizations and others are strong. All of the teams playing this week in Fort Collins will be very good."
Colorado is scheduled to open the tournament against Wagner today at 4 p.m. The Colorado team also will face Davenport at 7 p.m. Thursday, and New York University at 6:30 p.m. Friday. If Colorado advances out of pool play, the semifinals will take place Saturday morning, and the championship game will be later that night.
Last year, the Buffaloes entered the tournament seeded 16 out of 16 teams and finished eighth. Coloccia and his teammates have a better seed this year (third in the Western Division) and hope to improve on the team's 2006 showing.
"I think this group of guys is very capable of winning the whole thing, and that's what we are planning on doing," Coloccia said.
For Coloccia, the club team at the University of Colorado is a blessing. It has allowed him to pursue his degree in biology and to continue playing the game he loves.
"I'm happy with it," Coloccia said. "I wanted to come to CU for the academics. It just so happens that they also have a very good club hockey team."
- To reach John F. Russell, call 871-4209
or e-mail jrussell@steamboatpilot.com