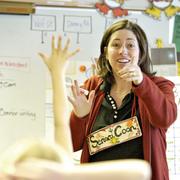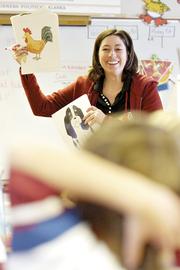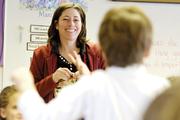 Steamboat Springs — Steamboat Springs School Board members want to expand Spanish-language instruction in the district's elementary schools.
During Monday's study session, board members expressed an interest in moving elementary Spanish from two, 20-minute sessions a week with teacher Ann Coon to two, 30-minute sessions each week in grades 3 through 5.
Board members asked Strawberry Park and Soda Creek elementary principals Mark MacHale and Judy Harris to work with Coon on a schedule to see what would have to be sacrificed in the current schedule to accommodate an expansion of Spanish.
The board will receive an update at its monthly April board meeting.
"Last year was supposed to be 30 minutes and it wasn't," board member John DeVincentis said. "This year, was supposed to be and it wasn't. I would like to see at least 30 minutes of instructional time (next year). It seems like this is dragging on and on. I would like to see a difference."
The topic of expanding Spanish to include kindergarten through second grades has been discussed in previous years and was mentioned briefly Monday, but Superintendent Donna Howell encouraged the board to consider expanding Spanish to all elementary grades at a later time because next year will be a transition year at Soda Creek with the construction of a new school.
The Education Fund Board, which administers the spending of the city's half-cent sales tax dollars, has consistently supported an articulated foreign language program and allocated $110,000 for this year to fund foreign language at the elementary, middle school and high school at varying levels for things such as materials and teacher salaries.
Spanish is required in sixth and seventh grade, giving students required foreign language from third through seventh-grade. Once students hit eighth grade and into high school, they can continue with Spanish or switch to French.
Coon urged the board to order the district to create an articulated program because she is not fully aware of what is going on at the middle school or the high school.
"I support Spanish, but it has to be articulated," Coon said.
In other items, the School Board:
- Discussed the school calendar. Staff will be given a brief survey of options for 2007-08 school year. Parents will receive a survey at this week's parent/teacher conferences to select their choice
- Received a facilities update from owner's representative Todd Ficken. Soil surveys are done. Modular classrooms have been ordered. Meetings with George P. Sauer Human Services Center neighbors need to be scheduled
- Heard a need from elementary teachers for increased planning time. Administrators were asked to put together current status of planning time and needs at each school
- Received an update on short-term and long-term recommendations and issues for the district to address at the urging of the Visual, Fine and Performing Arts Committee
- Received an update on how the district will meet curriculum needs with the resignation of former curriculum and instruction director Kelly Stanford and the board's decision not to name an interim director