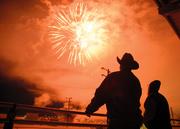 Hayden — Fireworks will make an explosive return to Hayden this year as the town continues its centennial celebration.
The town plans to have a fireworks display as part of the Hayden Daze celebration from July 20 to 22.
"It's a combination of a lot of events," said Kathy Hockett, Hayden Parks and Recreation director. "It's going to be a big blowout."
The traditional Colorado Days summer festival events are being combined to be a part of Hayden Daze.
"We usually have a pretty good turnout," said Joe Schminkey, Hayden's mayor. "It's an absolutely positive event."
One of the biggest attractions is the fireworks display, similar to the one that lit the skies over Hayden on March 12, 2006. Many Hayden residents said it was the first large fireworks display the town had put on in more than 20 years.
"People did enjoy them," Schminkey said. "It was a nice treat and nice change of pace for the town."
"We had many people say how nice the Hayden fireworks display was," Hockett said.
The town is inviting all current and past Hayden mayors and trustees to attend the weekend events.
"We really want to honor them for their service," Hockett said.
Jan Leslie, a retired Hayden teacher, has done historical research on the 41 mayors who have served Hayden in the past 100 years.
"We also will honor three women who made the centennial quilt," Hockett said.
The quilt, which is hanging in Hayden Town Hall, was made by Judy Zehner, Roberta Pero and Connie Todd.
The schedule for Hayden Daze is being finalized, but it tentatively includes the traditional Colorado Days events. Because there is no functioning Chamber of Commerce in Hayden, the town is sponsoring this year's events. Most events will be held at Hayden Town Park.
On July 20, the annual golf tournament will be held in Craig, and a bratwurst barbecue and street dance will be held that evening. The Northwest Colorado Shriners Club will again participate in the parade the morning of July 21. The Bobby Robinson barbecue with the famous "swamp water" marinade will follow the parade along with entertainment, vendors and Stretch, the 9-foot clown.
That night, mayors and trustees will be honored during the centennial celebration. A potluck dinner and fireworks at Dry Creek Park will follow.
The Bobby Robinson Chuckwagon Breakfast will be the morning of July 22.
- To reach Matt Stensland, call 871-4210
or e-mail mstensland@steamboatpilot.com