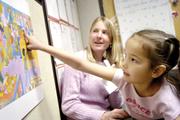 Steamboat Springs — Shana and Nick Yaw are determined to stay involved in their children's education, which is why they attended a roundtable discussion last week between parents and state Department of Education officials.
Representatives from the Colorado Department of Education were in Northwest Colorado to gather feedback about how local schools are communicating with parents and how effectively parents think schools are teaching their children, specifically children receiving special services.
Shana Yaw, whose family recently moved to Colorado from California, had positive comments for the teachers working with her son at Strawberry Park Elementary School.
"I can see a 100 percent change in him," Shana Yaw said. "He's not frustrated. He wants to learn to read better."
More to the point, the CDE representatives are monitoring how area schools that work with the Northwest Colorado Board of Cooperative Educational Services are using federal funds for such programs as Title 1 (reading), Title 3 (English Language Learners) and Title 4 (safe and drug-free schools). The representatives spent time in Steamboat, Hayden and South Routt talking to administrators, principals and teachers. On Tuesday night, the representatives spoke with Steamboat parents.
"You get the good information when you get to the parents," CDE Title 1 representative Laura Hensinger said.
On Tuesday, Hensinger, program director Trish Boland and Cindy Wakefield, who monitors how the schools are teaching safety and drug prevention, heard several parents express appreciation for the Steamboat schools and their staff when it came to working with children.
"It's amazing how many adults are involved with your child once they are identified that they need help," parent Janette Thielemann said.
The CDE representatives weren't in Northwest Colorado to investigate wrongdoing or negligence, they said. Rather, they are monitoring how federal funds are being used as mandated by the U.S. Department of Education. CDE serves as the federal watchdog at the state level, and Steamboat Springs Superintendent Donna Howell said CDE representatives had not recently visited local BOCES-member schools.
Although the schools teach the children, the federal grant dollars for the special assistance programs flow through BOCES to the schools, so BOCES is the organizer for this week's in-school visits.
On Tuesday, representatives met with South Routt administrators and also spoke with the district's Title 1 teacher.
"They asked specific questions regarding the five Title programs," South Routt Superintendent Kelly Reed said. "We had questions in return, so there was a dialogue. : Once in a while, they bring to light either something you didn't know or didn't have clarity about. That helps."
- To reach Melinda Mawdsley, call 871-4208 or e-mail mmawdsley@steamboatpilot.com