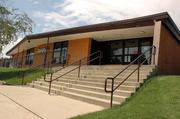 Steamboat Springs — Judy Harris is the principal at Soda Creek Elementary School. She chatted Friday with Steamboatpilot.com about the process of building a new school and the interim plan during the construction phase.
Q: Give us an overview of the plans for Soda Creek Elementary School next year while demolition and construction is ongoing. How many modular buildings, how many classrooms, the gym, the lunchroom, etc.
Harris: We are very excited about next year. We will have approximately 13 modular buildings housing 26 "classrooms," which should allow for space including art, music, the school office and restrooms. We will be using the gym in the Human Resources Building and also a number of rooms in that facility for such things as the media center, teacher workspaces, kindergarten rooms and a lunchroom.
Q: How will parking and transportation work next year?
Harris: We are currently in discussions with the city of Steamboat Springs regarding drop-off areas, parking possibilities and traffic patterns around the neighborhood. We will have more details soon.
Q: How confident are you that the construction will kept to one school year and not creep into the 2008-09 school year?
Harris: The initial plans were for 18 months of construction. We are working hard with our owner's representative to determine realistic timelines for this project. At this point, we are planning for more than one year in the temporary building and then being pleasantly surprised if the construction is completed in one school year.
Q: I heard that teachers might be encouraged/required to park at the Transit Center west of town and take the bus to school. Is there truth to that?
Harris: We have heard a number of ideas related to staff parking, and that is one of them. We are looking at all possibilities to meet parking needs. No decision has been made at this time.
Q: Will I be able to transfer my children to Strawberry Park Elementary School during the construction process by school of choice?
Harris: As you know, we have boundaries that define elementary school attendance. We also have "school of choice" requests for intra-district transfers. Anyone is welcome to submit a request in May, and those requests are reviewed and parents are informed in August each year. One of the criteria we use in determining change of school is class size at the requested school. While I have not had formal discussions with our superintendent or Mark MacHale (principal at SPE), I would discourage parents from requesting a transfer only on the basis of the temporary school as I am confident that our level of excellent educational programs will continue next year.
Q: What has the reaction of the staff been to the interim school plans? How will their lives be most affected?
Harris: The staff here has been very positive overall. We have begun the planning process and have identified our fears and hopes for the temporary school year. It was great to realize that we are looking forward to some possibilities that this opportunity presents that we would not otherwise have. We have tried to identify how their lives will be most affected (fears) and are working on planning to reduce those effects. At this time, honestly, I think the educational plan is the most exciting and some of the logistics (parking, etc.) are still needing to be addressed for staff members.
Q: Do you think the Soda Creek parent community is aware of how different school is going to be next year? Are you worried about how the first day of school is going to go?
Harris: I can't wait until the first day of school. Our PIC (Parent/Principal Information Committee) and SAC (School Accountability Committee) members have received regular updates on the plans for next year, as we know them. I am writing a monthly update in our parent newsletter as well as an attempt toward providing updated information. While next year will obviously be different in some ways, SCE is not just the building we are in. Our educational plans will continue including the high level (even upgraded levels due to the construction) of technology that we currently have (six computers in each classroom, a computer lab, tech support tools, etc.). We will continue with our effective model of instruction, small group and individual attention for student needs, assessment, teacher collaboration, etc. I envision a transition plan that will make the first days of school very exciting and inclusive for parents, students and teachers. This is a real opportunity for us to try some new and innovative ideas and we intend to enjoy it.
Q: How many conversations have you had with neighbors along Seventh Street about school next year? What are their concerns and how are you addressing them?
Harris: Donna Howell just updated me this morning on the need for us to pull together with our neighbors to update them and include them in this process. She is planning a meeting very soon. While I'm not sure of all of their concerns, I anticipate from past board meetings that there are concerns regarding traffic, parking, noise and activity levels. I am committed to being a good neighbor as we have been in our neighborhood for all these years and will work hard to address their concerns.
Q: What is your message to parents about next year?
Harris: Every principal who has given me advice about this process has said that the children will do fine...it's the adults who struggle the most. I believe that our children will take cues from the adults around them, and I ask parents and staff to remain positive and calm as we enjoy this adventure together. I have been sharing a quote from Walt Disney that says, "If you dream it, you can do it." We have dreamed of a new school for our SCE children and we now have the opportunity to do it. I would also want parents to stay connected and share their concerns with me through the process to help reduce rumors and fears. My wish is for this next year to end up being the best year ever for our community, and I believe that it will be.