Raising the bar
The success of minority skiers and snowboarders is on the rise.
- At the 2006 Winter Olympics, U.S. Ski Team member Toby Dawson won a bronze medal in freestyle skiing. Born to parents in South Korea, Dawson was lost in a marketplace in the city of Busan at age 3. He was raised in Vail as an adopted child.
- In the 2006 Paralympic Winter Games in Turin, Italy, black skier Ralph Green raced for the U.S. Disabled Ski Team. Although Green didn't reach the podium, simply competing at the games culminated an even longer journey from a dangerous upbringing in Brooklyn, N.Y. Green lost his left leg at age 15 after being shot in the back during a random drive-by shooting in Brooklyn's Bedford-Stuyvesant neighborhood. The shooting was believed to be a case of mistaken identity. Infections led to the amputation of Green's leg. Green competed in Aspen's Disabled World Cup in January and is a member of the NBS National Racing Team.
- Errol Kerr has been a member of the NBS team for six years and is vying for a spot on the U.S. Ski Team this winter.
Photo Gallery
National Brotherhood of Skiers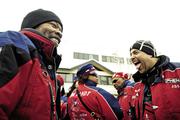 Steamboat Springs — A few times every winter, the tinted lenses of Janice Owens' sunglasses do not reflect the streets of Kansas City, where she worked for years as a division director for the federal Department of Housing and Urban Development.
Instead, the lenses occasionally reflect snowy ski trails - and through them, Owens watches perceptions change.
"You think not a lot of black people are involved in winter sports, until you come to something like this," Owens said Wednesday afternoon, sitting with friends at the base of Steamboat Ski Area. As hundreds of black skiers and snowboarders shared a picnic lunch while a deejay boomed Michael Jackson songs and snow continued its weeklong dump from the heavens, the engaging woman whistled at the size of the crowd.
"Then you see the numbers really are in the thousands," she said.
Owens is a longtime member of Kansas City's Midwest Ski Club, which brought 36 members to this year's annual summit of the National Brotherhood of Skiers. The summit concluded Saturday after a week of powder skiing, racing, fellowship and festivities in Steamboat Springs. More than 1,800 people from black ski clubs across the country, and as far away as the United Kingdom, took part in what has become the premier event for black skiers and snowboarders. It also has provided an annual opportunity to break down increasingly outdated stereotypes.
Owens began traveling to NBS summits in 1989.
"When I first started coming, we were really anomalies," Owens said about black skiers and snowboarders carving down mountainsides predominantly populated by whites.
Owens said she has seen a growing acceptance of black skiers throughout the years during her numerous trips to ski resorts in the U.S. and Europe.
"They're used to us now," she said.
"They" had better be - Colorado ski resorts and outdoors clubs are increasing efforts to bring minority athletes, often from urban areas, to the slopes and the outdoors in general.
As a growing umbrella organization for 77 winter sports clubs totaling more than 8,000 members, the NBS is leading the charge. Part of the organization's mission is to "identify, develop, and support athletes of color who will WIN Olympic and international winter sports competitions."
The emphasized "WIN" is no accident. The NBS wants to foster champions - like Tiger Woods in golf and Arthur Ashe in tennis - who can change long-held perceptions that winter sports are not for black athletes.
"That perception is not just in the white community, it's also in the black community," said Calvin Browne, president of Detroit's Jim Dandy Ski Club. "Whenever you find outstanding athletes, they're funneled to revenue sports - football, basketball. We encourage people to ski."
Browne said the Jim Dandy club is "the oldest black ski club in the world" and will celebrate its 50th anniversary next year. This year, Browne brought 78 members to Steamboat, which last hosted an NBS summit in 1995.
"I've had a great week," Browne said about the summit, which included social events such as a comedy show and happy hours, snowmobiling excursions and trips to local attractions such as Strawberry Park Hot Springs, ski races and award ceremonies, and an NBS business meeting in which Browne was named a board member and a director of the Midwest region.
Browne attended his first NBS summit in 1987 in Lake Placid, N.Y.
"Needless to say, when we assemble on the mountain in these kinds of numbers, we get a lot of strange looks," he said. "People are often surprised to see us, and at the skill level. But I've been skiing for 20 years - here (in Steamboat), I'm in the bowls, I'm on the Pony Express lift."
NBS President Rose Thomas Pickrum, a Cincinnati businesswoman, said an Olympic champion would go a long way toward erasing stereotypes about the ability of black skiers.
"I think that would be a source of pride not only for this organization, but for our race," she said.
Changing times
Pickrum recalled the first NBS summit, which attracted more than 350 skiers to Aspen in 1973.
"When the organization first started, for the first couple years at resorts, the National Guard had to come out to escort us," Pickrum said. "But that was 30 years ago."
Pickrum and Browne said no race-related incidents have occurred at NBS summits for several years. Pickrum praised Steamboat for an "excellent" reception, a view shared by other NBS attendees.
"The people are so friendly here - we've been very well received," said Eunice Twiggs, who owns a childcare center in West Palm Beach, Fla. Twiggs came to Steamboat with about 70 members of the Sunshine Slopers Club of South Florida.
On Wednesday, as snow continued to fall in Colorado, temperatures in Miami approached 80 degrees.
"It's a big change," Twiggs said. "I'm loving it. I'm still on the greens (beginner ski trails), but I'm doing very well."
Rosemarie Cousins of London, who was introduced to London's Nubian Ski Club by a friend, said she tried skiing for a chance at a new experience.
"Let's be real - this isn't natural for us," Cousins said in her pronounced British accent, wrapped in a heavy jacket to fight off the cold. "We're black. We've got extra melanin to protect us from the sun. This is alien to us. But that's why I'm here."
Reaching out
NBS is working hard to promote winter sports in urban areas. Pickrum said the organization has begun marketing campaigns in cities with large black populations such as Atlanta, Chicago, Los Angeles and New York.
"Primarily, African Americans don't live in rural, mountainous areas," she said. Steamboat's black population is less than 20, according to the most recent U.S. Census data.
In February, Steamboat Ski and Resort Corp. donated a weekend of lessons and equipment rentals to 10 students from Denver's Lincoln High School. Only two of the students had been to the mountains. Ski Corp. spokesman Michael Lane said Lincoln High teacher Kevin Byerley described the Steamboat trip as "a turning point in many of these kids' lives."
The weekend was awarded to students who excelled in the UpLIFT program, which works with 3,000 youths in areas dominated by single-parent families living in low-income housing.
Former Olympian and longtime Steamboat ski instructor Billy Kidd is continuing a program this winter to bring 35 to 40 children from the Ute Indian Reservation in Ft. Duchesne, Utah, to "Ski Town USA" with free lift tickets, lessons and equipment.
Bringing new people to the mountain is not only about spreading a love of winter sports. It's also about money.
"We represent a very attractive market," Browne said about the NBS. Pickrum added that the 1,846 registered entrants in last week's summit purchased an average of four one-day lift tickets each, in addition to countless dollars spent on lodging and in local retail stores, restaurants and bars.
Andy Wirth, vice president of sales and marketing for Ski Corp., said the ski area is very aware of the demographics behind its sales.
"We do a fair amount of that research," he said. "There's certainly an understanding that there are different segments of skiers. In this case, the NBS is really an important group. In addition to allowing us to support a really honorable mission, it probably is the single most viable way to reach the African American skier."
Without the NBS, Rosemarie Cousins probably never would have taken a run down Heavenly Daze.
"It's been a really good experience," Cousins said. "I just think the whole thing is phenomenal."
- To reach Mike Lawrence, call 871-4203
or e-mail mlawrence@steamboatpilot.com