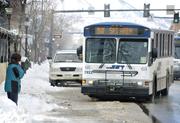 Steamboat Springs — A city transit official is pleading with local drivers to slow down when they're near public buses on Steamboat's snowy and crowded streets.
"Please give buses a break," Steamboat Springs Transportation Director George Krawzoff said Thursday, a day after a Steamboat Springs woman was arrested and hospitalized with minor injuries after rear-ending a Steamboat Springs Transit bus on Pine Grove Road.
Krawzoff said the incident was at least the second vehicle-bus collision in Steamboat this winter. He said that as the snow piles up, especially along Lincoln Avenue, cars and buses have less room to maneuver and more chances for accidents.
"Staying well back from buses and allowing more following
room would be a huge help," Krawzoff said, noting that Steamboat currently has an "honor system" for sharing the road. "Some cities have bus-priority laws. At this point, we're relying on people being courteous."
Jim Weber, the city's director of public works, said tight spaces along Lincoln Avenue are a fact of life in Steamboat. Weber said Lincoln Avenue is 70 feet wide, a distance that includes two 8-foot parking lanes, four 11-foot driving lanes and one 10-foot center, or turning, lane.
"The turning lane and parking lanes are about 2 feet narrower than recommended," Weber said Friday. "We do have, in a manner of speaking, a substandard width - or a width that does not meet all the recommended uses - in the downtown corridor."
"It's something we're stuck with," he continued. "I don't think business owners that have frontage on Lincoln Avenue would want their sidewalks narrower than they are right now."
Weber said city plow crews did extra clearing of Lincoln Avenue on Thursday and Friday nights.
"It's been a relatively straightforward winter, but the last couple weeks have created some problems," Weber said.
Krawzoff also reminded residents traveling on or near Hilltop Parkway, Steamboat Boulevard and Yampa Valley Medical Center to try the new bus routes servicing those areas. The routes are currently operating on temporary funding from the city and could be taken away if the amount of passengers doesn't warrant the cost of the routes.
"Future funding for those routes will be much more likely if people vote with their patronage," Krawzoff said.