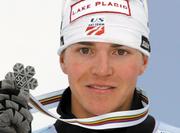 Steamboat Springs — Former Steamboat Springs resident Bill Demong won silver in the 15-kilometer individual event at the Nordic World Ski Championships in Japan on Saturday, making him only the second American to ever medal in a Nordic combined event at the Olympics or World Championships.
Demong out-sprinted Finland's Anssi Koivuranta in a photo finish to claim the silver medal. Koivuranta took bronze.
"This is a big day for me," Demong said. "It's exciting what this means for myself and what this means for Nordic skiing in the United States."
The race was won by Germany's Ronny Ackermann, the defending champion in the event, who crossed the finish line in 38 minutes, 35.6 seconds. Demong finished 8.5 seconds back.
Until Saturday, Steamboat's Johnny Spillane was the only American to win a medal at the World Championships or Olympics. Spillane took gold in the 7.5-kilometer sprint event in Val di Fiemme, Italy, in 2003.
Spillane finished 20th in the 15-kilometer event Saturday.
Demong, who had the second-fastest cross country time of 37:04.1, stood in eighth place after jumps of 89.5 and 94.5 meters and was 1:40 back of the leader before the cross-country race. He caught up with Koivuranta at the 14-kilometer mark and kept pace with him into the stadium before out-skiing him to the finish line.
"I didn't think about it," Demong said. "I kept looking forward, kept looking ahead. I had atomic rockets and I kept pushing them forward all the time."
Demong's second-place finish on the sport's biggest stage was particularly rewarding given his two fourth-place finishes at World Cup events in January. Demong lost out in photo finishes in both races.
"I traded in those two photo finishes for a medal at Worlds," he said Saturday.
Former U.S. Nordic Combined Ski Team coach Tom Steitz, a Steamboat resident, coached Demong for six years and is still close to the skier.
"It's so big that it's really hard to explain to folks," Steitz said about the significance of Demong's silver. "It's monumental, it really is."
Steitz said it was fitting that Demong's biggest race accomplishment happened in the same country where he began his U.S. Ski Team experience almost 10 years ago.
"His first trip (as a member of the U.S. team) was as a wide-eyed junior to Japan, and 10 years later he's making history there," Steitz said.
The Associated Press and the U.S. Ski Team contributed to this report.