Past Event
Saturday, January 13, 2007, time TBA
Steamboat Ski Area, Mount Werner Road, Steamboat Springs
Not available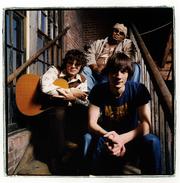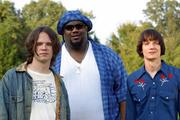 Luther Dickinson, guitarist and singer for the North Mississippi Allstars, already has been typecast.
He sings the part of an old dog in Nickelodeon's new cartoon show, "Barnyard."
"Being an old dog comes natural," Dickinson said. "Chris (Chew, the band's bassist) is a pig, and Cody (Dickinson, drums and vocals) is some sort of warthog. I was typecast."
The music they compose for the show is a cross between country-hillbilly and techno-party music. But for their live shows - like the one they will perform Saturday in Gondola Square - the Allstars are all rock 'n' roll.
"We have blues influences, Southern rock influences and gospel influences," Dickinson said. "We mix it all up and do our thing."
The Dickinson brothers were born to Jim Dickenson, who also is a musician and producer.
"He worked with (everyone from Bob) Dylan to The Rolling Stones to Aretha Franklin and all the blues guys," Dickinson said. "A lot of that happened before we were born, and we heard the stories, but it was definitely a positive type of environment and why we're here."
As a result of those family ties, the North Mississippi Allstars has relationships with musicians like John Hiatt.
"He was in a band with my father," Dickinson said. "And now he hires us to back him up."
The Allstars formed in 1996 after high school, and its members have since released six full-length albums, been nominated for multiple Grammy Awards and graced stages all over the world.
"We've been to Japan twice and Europe, I don't know how many times, and Australia once," Dickinson said.
Spain, London and Australia are some of the band's favorite places to perform, but it's the cities with strong music histories that they have found have the best audiences.
"Some cities have the vibe, like Chicago or New Orleans," Dickinson said. "And some just have a spirit that is so music friendly, like New York or San Francisco. And then there's the whole state of Colorado. What other state besides California can you tour for two weeks in one state?"
The North Mississippi Allstars also recently toured with Kid Rock, whose personality really impressed them.
"He's totally professional, courteous and a gentleman. He has no attitude," Dickinson said. "We are the same age and share a generational thing. Kids of our generation have seen so many different styles of music that have been available to us."
That combination of influences ranges from Jimi Hendrix to Beck and punk rock to Run DMC.
"Who wants to be a one-word band?" he asked. "It's funny how certain artists combine influences that we all grew up with, and the music is already totally different."