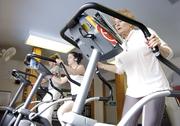 Got questions?
Send questions about recreation center issues to members of the Leadership Steamboat class at dialoguebeforedec...
Recreation center comments and questions also can be sent to Susan Petersen, recreation supervisor for the city's Parks, Open Space and Recreational Services Department, by calling 879-4300 or e-mailing spetersen@steambo...
Steamboat Springs — Consultants hired to create a clear picture of Steamboat Springs' recreation needs could present city officials with a complex choice.
Chuck Musgrave of Barker Rinker Seacat Architecture of Denver said Thursday that recommendations about how to improve recreation facilities in Steamboat could involve more than one option - and more than one site - for a new or expanded recreation facility. Barker Rinker Seacat staff began working with consultants from Greenplay, LLC, of Broomfield, in January and plan to present their findings to the Steamboat Springs City Council next month.
After hearing comments from residents during forums Wednesday and Thursday, Musgrave emphasized that consultants' findings could include multiple options and could ultimately require the City Council to choose the size, cost and features of a new recreation facility.
"I think we've heard pluses and minuses about all the sites," Musgrave said. "There are a lot of good opportunities out there, and right now they're all equal. The recommendation might be more than one site."
The City Council is planning a work session to discuss recreation issues on either April 10 or April 24.
Musgrave and Craig Bouck of Barker Rinker Seacat said a multi-site recommendation would fulfill the job consultants were asked to complete, because they cannot tell the City Council how much to spend.
"There may be one solution that costs significantly more than the other," Bouck said. "Each solution will have strong implications, but each will be viable."
Musgrave said the list of potential recreation center sites includes Howelsen Hill, the U.S. Post Office site at Third Street and Lincoln Avenue, Memorial Park near Steamboat Springs High School, and the controversial Curci-Turner site off Hilltop Parkway. There also are two potential sites near The Tennis Center at Steamboat Springs.
The consultants will examine all the sites during the next several weeks.
At the same time, John Barnholt of Greenplay will explore funding sources for a new center. But Barnholt and Bouck said their recommendations to the City Council in April will focus more on ideas than specifics.
"We're not going to get past bubble diagrams," Bouck said about designs for a possible center.
While Musgrave and Bouck emphasized that consultants are building on work done by previous recreation consultants hired by the city as far back as 1999, the meetings this week provided an open discussion of all options previously introduced.
"These (meetings) sort of rekindled everyone's issues," Bouck said. "Everything is on the table."
Consultants said community members at forums this week consistently raised issues about expanding youth facilities and taking a conscientious approach to the use of open space.
"People are really concerned that whatever we do, we're maximizing the opportunity," Bouck said.
Also Thursday, members of the 2006-07 Leadership Steam-boat class, sponsored by the Steamboat Springs Chamber Resort Association, announced a series of 10 articles about recreation center issues that will appear in the Steamboat Today on Mondays and culminate in a public forum May 9.
The series of articles begins Monday.