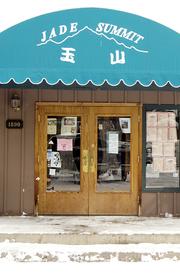 Steamboat Springs — The owner of a Ski Time Square restaurant and bar will have another month to deal with a criminal case against him before the city decides whether to pursue suspending his liquor license.
The City Council, acting as the city's Liquor License Authority, made the decision Thursday after the man's attorney expressed concern about his client having to defend himself to the council before getting the chance to appear in Routt County Court to resolve the criminal case.
Jade Summit and Pirate's Pub owner Kevin Nerney was arrested Feb. 4 in connection with an alleged incident involving a bar patron. Nerney is facing a misdemeanor charge.
"The criminal case will not be resolved by April, and that puts him in a difficult situation to defend himself against the charges imposed by this board," said attorney Kris Hammond, who is representing Nerney. "He won't be able to speak about certain things because there's an ongoing criminal investigation."
Although Nerney has not been convicted of the misdemeanor, the council has the authority to suspend or revoke his liquor license based upon Nerney's alleged conduct.
Last year, the council suspended Jade Summit's license for three days for selling alcohol to a minor.
During Thursday's hearing, Steamboat Springs police Capt. Joel Rae suggested the council set a "suspense date" to ensure the liquor license issue is resolved in a timely manner.
"We feel that is serious enough to warrant community concern, and these types of things can go on for six months to a year down the road," Rae said, referring to criminal court proceedings.
Council members agreed to revisit the issue at its April 5 meeting.
Also Thursday, the council found probable cause to move forward with punishing three businesses that failed a routine police department alcohol compliance check in January.
The city likely will offer liquor license suspensions to Rex's American Grill and Bar, City Market and Arctic Liquors for failing the compliance check.
If any of the businesses opt not to accept the proposed suspensions, the businesses will take part in a show-cause hearing, during which they'll be able to present evidence supporting a different punishment.
Council members asked city staff Thursday to gather more information from Mambo Italiano owners regarding an allegation that someone was seen drinking alcohol at the bar after 2 a.m., which is illegal.
The council asked to review surveillance tapes of the bar, police reports and cash register tape before making any decisions. Mambo Italiano also is scheduled to appear before the council April 5.
Lastly, the council granted a tavern liquor license for a new wine bar that will move into Terry Sports in Ski Time Square.