Breaking News Alerts
Want breaking news from steamboatpilot.com sent to your e-mail or cell phone? It's free and easy to sign up:
Past Event
Friday, March 2, 2007, 3:45 p.m. to 6 p.m.
Broomfield High School, 1 Eagle Way, Broomfield, CO
Not available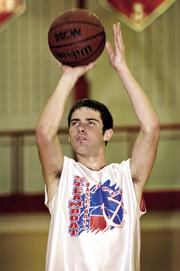 Steamboat Springs post player Cameron Petet thinks when he takes his 6-foot-2 frame onto the court at Broomfield High School on Friday, onlookers who don't know the Sailors probably will laugh.
Petet will be among a slew of Sailors who will be giving up at least four inches - and sometimes as much as seven inches - to the frontline of D'Evelyn.
"They're probably going to call me dumpy," Petet said. "They're going to think they'll be able to overpower me, but they won't."
Friday's game (3:45 p.m. at Broomfield High School) will present the Sailors with something they're already accustomed to: being the undersized team on the court.
In addition to already playing D'Evelyn once, Steamboat has played against a 6-foot-10 player in Wyoming and against Glenwood Springs, which has two players 6-foot-5 or taller.
Still, D'Evelyn has three players taller than 6-foot-6, including 6-foot-9 Andrew Hooper. Hooper, who already has signed a scholarship with Denver University to play basketball, comes into Friday's game averaging 19 points, 12 rebounds and five blocks a game.
While Hooper will be the focus of the Sailors' defense, he's not the only one that can score.
Against Pueblo Central in the second round of the Class 4A playoffs, Hooper had to sit most of the game with foul trouble. He ended the game with only five points and 10 rebounds.
The Jaguars, however, got big contributions from their other post players. James Rader (6-7) put D'Evelyn on his back in the second half after the Jaguars trailed, 36-31, at halftime. Rader scored 19 second half points.
Even though the Sailors may be outsized, they feel that may be something they can use to their advantage.
"Being smaller just makes us work harder at everything," sophomore post player Alex Wood said. "Sometimes (bigger teams) don't think they have to work hard against us."
Steamboat coach Kelly Meek said the Sailors will have to use a slew of defenses to slow down the Jaguars.
"The big thing is they've got sight line over us," Meek said. "It's like our kids playing a junior high team."
To combat the Jaguars' size, Meek said it will be essential for the Sailors to win the ground game.
"All year playing against bigger guys, it has been trying to take away the legs," Wood said. "You don't want to give them the jumping ability."
While Meek said the Sailors will have to deal with the Jaguars' size, he said he expects his team to step up.
"This program is used to stepping up and going to a higher level," he said. "We've been there many times. It's another way to challenge ourselves and see how much further we can step forward."