Past Event
Friday, March 2, 2007, 5:30 p.m.
Steamboat Smokehouse, 912 Lincoln Ave., Steamboat Springs
All ages / Free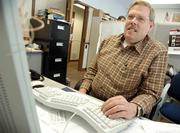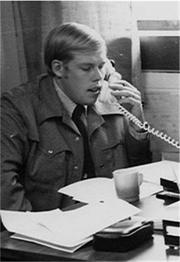 Steamboat Springs — When Ross Kelly began working for the Steamboat Springs Police Department, his intentions were to stay for a few years to help build the department.
That was 1974, more than three decades ago.
Now, at 55, Kelly is ending his law enforcement career. After stints as a patrol officer, detective, complex financial fraud investigator, volunteer, educator and 20 years as a deputy coroner, Kelly is retiring.
On Wednesday, Kelly recounted some of his favorite memories and what he'll miss about walking through the department's double doors at 840 Yampa St.
"I think being able to help people deal with some of their problems is what I'll miss the most," he said. "It has been a lot of fun."
Kelly joked that he decided it was time to open new doors when he began arresting and dealing with a third generation of Steamboat residents.
"It's interesting when you hear someone say, 'He was good to your grandpa back then,' and, 'he was good to me, too," Kelly said.
"There's no doubt Ross has been an icon with the Steamboat Springs Police Department," Capt. Bob Del Valle said.
As his supervisor, Del Valle said Kelly was an exemplary employee who was dependable and always willing to pick up extra duties "to get the job done."
"He was always there, especially when I'd break my computer and he'd come and fix it so I could do my job," he said. "I just hope Ross enjoys his retirement more than he enjoyed his 32 years working as a (police department) officer."
Diane Moore, executive director of Advocates Against Battering and Abuse, has worked with Kelly for 24 years. She said she will miss his professionalism and understanding in sensitive cases such as sexual assaults.
"I truly have found Ross to be sensitive and respectful in his questioning and investigating all the cases we have collaborated on," she said. "He will be missed."
Public Safety Director J.D. Hays, who has been with the police department for 27 years, said Kelly will be hard to replace, not only because of his technical skills, but because of the contributions he has made to the department over the past three decades.
"We've always had a good team, and Ross was an integral part of that," he said. "He has his fingers stuck in everything - he knows a lot of people and a lot of people know him. He's very well liked in our organization."
The police department is hosting a retirement party for Kelly on Friday and encourages anyone who knows Kelly to stop by.
-To reach Alexis DeLaCruz, call 871-4234
or e-mail adelacruz@steamboatpilot.com