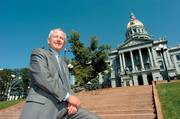 Audio clip
State Sen. Jack Taylor on green building
Denver — City and county officials announced this week that they have received a $25,250 grant from the Colorado Heritage Planning Grant Program, to develop an energy-efficient building program.
Steamboat Springs city planner John Eastman and Ted Allen of the Routt County Building Department are coordinating the program, and will hire a consultant to research "green building" programs in other municipalities.
The Yampa Valley Construction Trades Association will help create an advisory committee to help plan the program.
Colorado Heritage Planning grants are funded by the Office of Smart Growth, created in 2000 within the state Department of Local Affairs.
AUDIO: Listen to state Sen. Jack Taylor, R-Steamboat Springs, speak on the Senate floor at the Capitol in Denver Thursday as he advocates for a bill that would promote environmentally friendly construction practices in state buildings, as well as promoting the use of Colorado lumber.