Tom Ross
Tom Ross' column appears in Steamboat Today. Contact him at 970-871-4205 or tross@SteamboatToday.com.
Find more columns by Tom here.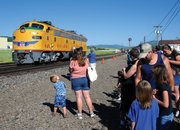 Steamboat Springs — Hang around an old railroad depot long enough and a passenger train might show up.
It was exciting to see Union Pacific's vintage locomotive idling on the tracks just west of the old depot in Steamboat Springs this week. Compliments to the railroad for making such an effort to educate the public about train safety. Of course, the question on the public's mind is, will Union Pacific someday find a way to mesh unscheduled coal trains with a scheduled commuter line between Craig and South Routt?
It's not an easy puzzle for the railroad and community leaders to solve. While they're working on it, it's fun to share stories about long-distance train rides taken in days gone by.
Ed Hill of Steamboat Springs remembers the summer of 1943 when his parents loaded him on the Denver and Rio Grande Western Railroad in Grand Junction. He and his brother Larry traveled un-chaperoned all the way to Ardmore in steamy South Central Oklahoma to visit their grandparents in nearby Kingston.
"We rode the Pullman car and we carried a bag of nickels so we could tip the porters," Hill recalled.
The boys had to change trains in Newcastle, but the nickels did the trick and the porters took extra care to make certain the two Colorado kids were safely on their way.
America was at war in July of 1943, and Hill recalled there were many soldiers on the train. It came as no surprise - many troop trains rolled through Grand Junction in those days.
Hayden's Bill Irvine remembers train trips where silver dollars, not nickels, created memories. He grew up in Connecticut in the 1950s and made frequent summer trips to Hot Springs, Ark., a destination that could be even muggier than Ardmore, Okla.
Irvine's father worked on railroads while a Navy Seabee and continued the profession after he left the service. He worked on the New York/New Haven Line and that meant free railroad travel for the Irvine family.
Nearly every summer, Irvine said, he caught a train from Grand Central Station in Manhattan and rode the train south. The train went on from Hot Springs to Dallas and as a "Nutmegger," Irvine was impressed by all of the Stetsons riding the train.
"All the Texans were wearing cowboy hats so we figured they must be real cowboys," Irvine remembered. "They were all handing us silver dollars."
A dollar was a chunk of money to a kid in 1954. But my train memory from the early 1960s involves a $5 bill.
It was December 1960 when my family boarded a coach train operated by the Milwaukee Railroad for an easy trip to Minneapolis. But that was just the beginning. In the busy train depot in the Twin Cities we boarded the legendary Empire Builder for the long trip across the frozen plains of North Dakota and then Montana before easing down the Columbia River Gorge and on into Portland for the holidays.
Amtrak still runs a train called the Empire Builder, but the original was the signature train of the Great Northern Railway. Its logo was a mountain goat silhouetted against a red disc.
Like Hill and Irvine, I was on the way to see my grandparents. And I have vivid memories of the trip although I was 7 years old.
My family had a sleeper car with our own private quarters featuring a fold-down metal sink. I feel a little guilty recalling that we left our leather shoes in a hutch at night and when we awoke in the morning, the porter had shined them.
We dined on linen tablecloths and passed the hours in the observation car as it streamed across the Rockies.
When we disembarked in the Portland train station, my father handed our porter a $5 bill and said, "Buy your children some Christmas presents."
It sounds like a pittance today, but back then, $5 was enough to purchase a couple of nice toys.
That was the Christmas I awoke to find a Lionel model train set under the tree.
I'm not a "train freak," but I still have that model train in the original box. It's a reminder of the days when passenger trains were a glamorous way to travel.