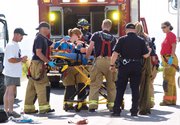 Steamboat Springs — A 16-year-old bicyclist sustained leg injuries Friday afternoon when she was struck by a semitrailer while riding down Routt County Road 129.
Colorado State Patrol Trooper Doug Kline did not know the extent of the girl's injuries before the girl was taken to the hospital.
Kline said the girl was riding her bicycle with her mother about 4:30 p.m. south on C.R. 129 near mile marker 8 when she apparently swerved into the southbound lane of traffic and was struck by a semitrailer.
"It sounds like the girl got her tire stuck in the gravel on the shoulder, lost control of her bike and swerved into traffic," Kline said.
The truck's driver had apparently given the girl and her mother more room but was unable to avoid hitting her when she came into his lane, he said.
There is only about a six-inch shoulder on C.R. 129.
"You can see where he started braking and he was already pretty far over, so he did what he could to avoid hitting her," said Sgt. Seth Merrick of the Routt County Sheriff's Office. Sheriff's Office deputies assisted with the accident until State Patrol arrived and helped direct traffic, which had been backed up for about 45 minutes in both directions on C.R. 129.
Dawn Obrecht, a local physician, was driving two cars behind the accident when it happened.
"It seemed like she was going to be OK," she said.
A Steamboat Springs police officer also heard the accident from his home off C.R. 129 and assisted the other agencies on scene.
Kline said it "was too early" to tell if the driver of the semitrailer would be cited for the accident.
"We'll see how it all turns out after I'm done with the investigation," he said.