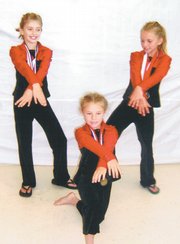 Steamboat Springs — Steamboat Springs youth gymnasts may not have been represented in much quantity at a recent state meet in Castle Rock, but they certainly delivered quality results. Excel Gymnastics of Steamboat owner and coach Mike Smith qualified seven Steamboat girls for the EAGLES State Gymnastics competition held June 23 at Castle View High School. Unfortunately, due to summer schedules, Smith could only take three.
Olivia Williams and Maggie McElhiney, a pair of 10-year-olds, along with Julia Gibbs, 7, made the trip worthwhile. All three competed in all four events (vault, uneven bars, balance beam, floor) and all three placed high on their vaults. McElhiney took second with a score of 9.0 (out of 10), Gibbs took eighth with an 8.6 and Williams took 12th with an 8.5. Then on the floor, McElhiney and Williams landed on the podium with second- and third-place finishes, respectively.
The scores were enough to catapult McElhiney to an all-around score of 36.15 for third in the state competition. Williams finished sixth and Gibbs finished in 17th.
"What a great end to our summer season," Smith said. "To get two people into the top 10 with only three going is just great."
Smith also noted Gibbs accomplishment in competing so well in the 11-and-under meet as the only 7-year-old competing.
"I think that anytime you have girls competing up and finishing so well, that it will only boost their confidence and self-esteem," Smith said, looking forward to the sure dividends from the summer season when the girls' season of U.S.A. Gymnastics-sanctioned events begins this fall. "They're going to have more confidence and come out with better scores."
Smith also was proud to see the team learn its personalized floor routines in only six weeks of practice, considering he had opened his Riverside Plaza training facility in March.
"They got a late start with this competition season and only competed in one meet to qualify for state," girls team coach Becky Scruggs said. "To do so well with the short training season is just incredible."
Visit www.879-egos.com for more information on Excel's summer programs.