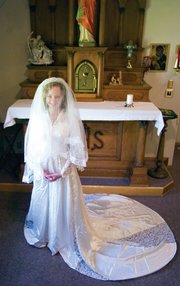 Steamboat Springs — Holy Name Catholic Church in Steamboat Springs will hold a fashion show and ice cream social Sunday to celebrate the church's centennial.
Fashions dating as far back as the church's founding will be modeled, including the wedding dress worn by parishioner Diane Parnell when she was married in the church in 1953.
On Tuesday, 16-year-old Michelle Lichtenfels tried on Parnell's dress, which she will model Sunday.
"It's pretty, but I'm having a little trouble breathing. I'm a swimmer and my shoulders are broad," Lichtenfels said as she stood before the same altar that Parnell stood before on her wedding day. The former church was replaced by the current building in 1964, but the altar was salvaged.
Parnell said the dress was worn by both of her daughters at their weddings, but it will be a treat to see the rising junior at Steamboat Springs High School model the dress.
"She'll be beautiful in it, but Michelle has a lot of years left until she needs to really wear one," said Parnell, who noted Steamboat Springs had about 1,800 people the year she was married.
"We could ride to town and get our horses shod right down the street from the church," she said.
Event Organizer Judy Copeland said 14 outfits - showcasing both men's and women's fashions - will be modeled in the church's courtyard.
"It's a nice way to sit down, have some ice cream and see how things have changed over the years," said Copeland, who said the event will also celebrate the 100th birthday of Saint Martin of Tours Catholic Church in Oak Creek.