Census: Population declining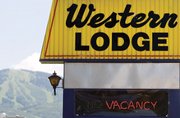 Population estimates
Town/City, July 1, 2006, July 1, 2005
Steamboat Springs, 9,315, 9,329
Hayden, 1,534, 1,539
Oak Creek, 791, 795
Yampa, 413, 415
- U.S. Census Bureau
Steamboat Springs — Steamboat Springs is shrinking, the U.S. Census Bureau believes.
In estimates released this week, the bureau estimated Steamboat's population on July 1, 2006 was 9,315, down 14 from the July 1, 2005 estimate. It was the third consecutive year and the sixth in the past seven that the bureau estimated a population decline for Steamboat.
"It amazes the hell out of me," said local developer Jim Cook. "I don't believe the number."
Cook said he subscribes to various reports of demographic data, all of which suggest the opposite of what the Census estimates. He said income statistics, demand on services and new construction are all up.
Cook is not alone in disbelieving the census estimates. Director of Planning Tom Leeson said he thinks Steamboat's population is closer to 11,000.
"We have definitely not gone down in population," Leeson said.
Leeson said the city bases its population estimates on various projections and indicators, such as building permits, and that the Census' finding is inconsistent with the city's data. Without knowledge of the Census' methodology, Leeson said he doesn't know why the bureau would arrive at a number he believes to be too low. Some things that could play a role, Leeson said, are many second homes in Steamboat becoming permanent ones and that the city has a persons-per-household ratio that is higher than the national average.
Steamboat Springs School District Superintendent Donna Howell said the district is expecting growth, not decline in elementary school enrollment. Middle and high school enrollments are projected to hold steady, Howell said.
A spokeswoman for the Census Bureau said Friday that the bureau uses mostly administrative data - such as birth records, death records, tax records and building permit data - to arrive at the estimates. When asked how confident the bureau is in its estimates, she replied, "These are the official population estimates."
The estimates also showed population declines in Hayden, Oak Creek and Yampa, with the largest being a five-person decline in Hayden. Despite the estimated declines in these communities, the Census estimates the population in Routt County has grown 9.6 percent since the 2000 census, from a population of 19,690 to 21,580.