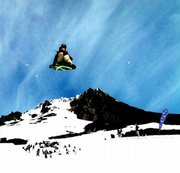 Steamboat Springs — The snow may be out of sight, but local snowboarders still have competition on their minds.
As the final patches of snow on Mount Werner melted away, a handful of Steamboat's top youth riders were busy finishing their seasons by winning titles on the glacial terrain parks at the Timberline Lodge Ski and Snowboard Area at Oregon's Mt. Hood.
Blake Eddington admitted to how tough it has been to keep his halfpipe skills honed after the local ski areas shut down in the spring.
"Once the mountain closes down, you can't really do a whole lot - jump on the trampoline I guess," Eddington said.
The 16-year-old rider had to get his legs back for the sixth and final 2007 Chevrolet Revolution Tour event of the season June 21 and 22. The tour events serve as qualifiers for the 2008 U.S. Grand Prix Tour, USASA Championships and FIS Snowboard Junior World Championships.
Fortunately, Eddington was invited to participate on the U.S. Junior Gold Team that was coupled with U.S. Snowboarding's Project Gold Team in a weeklong development camp preceding the event.
"The first day was rough, but we rode for about a week before the contest to get back into it," Eddington said.
Steamboat Springs Winter Sports Club head pro-am freestyle coach Spencer Tamblyn was invited to coach at the camp with U.S. head halfpipe coach Mike Jankowski and assistant coach Rick Bower. Tamblyn was pleased with the performances of both Eddington and Steamboat Springs' Matt Ladley, a 16-year-old U.S. Rookie Team member, in both the camp and the competition, "where the level of riding was unreal."
Eddington stuck a clean halfpipe run featuring back-to-back 500s and a 720 into a cab-900 to secure the win. Eddington said the win was a highlight of a great season that had him landing just shy of the podium, taking fourth at a Revolution Tour event in Vermont and 14th at a Grand Prix event.
"He carried a lot of momentum into that final event - kind of an exclamation point on a great season where he's been landing lots of amazing runs," Tamblyn said.
Ladley, who Tamblyn said had been sticking what coaches called "the man run" throughout camp - two 1080s and two 900s in a single run - botched a final competition run landing to take ninth.
"It was probably the best season I've ever had, and I didn't get hurt," Ladley said about his first year on the rookie team. His season was highlighted by a third-place Grand Prix halfpipe finish, an invitation to Norway's prestigious Arctic Challenge and progression that Jankowski described earlier this winter as "phenomenal."
Ladley's other two first-place Revolution Tour finishes from the winter were enough to earn him the tour's overall men's halfpipe title.
"I didn't even know they had that award until they called it out," Ladley said by phone Thursday from an Oregon beach.
SSWSC rider Ariel Tredway, who participated in the Windells Snowboard Camp and competed at the event, took sixth in the women's halfpipe competition.