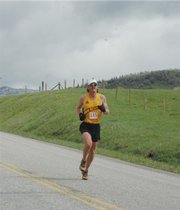 Steamboat Springs — His calves ache and his toenails are gone, but at least he can relax.
Boulder resident and Aspen native Rickey Gates, 26, won the grueling U.S.A. Mountain Running Championships on Sunday in North Conway, N.H., earning him a spot on the Teva U.S. Mountain Running Team that heads to Saillon, Switzerland, in September for the World Mountain Trophy Race.
"I'm on the team now, so I can go (to Steamboat Springs) and run how I feel and just enjoy it," Gates said.
But the pressure is on for the 150 other elite runners expected to compete in Saturday's USA Track & Field 10K Trail Championships. Two men's and one woman's spot on the U.S. team will be up for grabs for the top finishers.
Although there is one final team selection race July 15 in California, USATF Mountain Ultra Trail Council chairwoman Nancy Hobbs was quick to point out that the country's top trail runners will converge on Mount Werner at 10 a.m. Saturday gunning to claim the coveted title of "national champion."
"This is a really talented field, plus you always have some other top runners come in - maybe they were road runners or marathoners that have switched over to trail," Hobbs said.
The field is highlighted by 13 former U.S. team members, including Laura Haefeli, a 39-year-old beekeeper from Del Norte who has won the 10K national trail championships for the three years they've been staged, as well as three of the four members of the U.S. women's team that took gold at the 2006 worlds in Turkey.
"I just feel like I need to stay relaxed as much as I can," Haefeli said of the obvious stakes of a single female berth on the line. "I really want to make the team, so I can't waste my nerves putting too much pressure on myself."
On the men's side, Simon Gutierrez, the 41-year-old, Alamosa-based trail running legend who was the U.S. men's top finisher in Turkey, returns along with Moffat County High School and University of Colorado standout and defending 10K trail national champion Clint Wells, 32.
The fast runners should be a blur coming the 1.95 miles down Main Drag after the 1,037-foot, 1.65-mile climb to the top of Yoo Hoo.
"The course is steep up, but has a lightning fast, very smooth downhill," Steamboat Springs Running Series director John Chapman said about the two-lap, 7.2-mile course that is just longer than 10 kilometers. "You're going to be seeing some guys that will be able to do low four-minute miles - the downhill is perfect for speed."
Chapman reminded local runners that a preliminary open/citizen's division race will precede the championship event, starting at 8:30 a.m. from the Mount Werner base (Gondola Square).
"This is really the race," Chapman said of the dual event that not only counts points toward the 2007 Running Series, but will also include a hefty prize raffle, free lunch, beer and a high-end SmartWool microweight T-shirt for participants in both divisions.
Registration/packet pick-up for both divisions costs $35 and can be done from noon to 9 p.m. Friday at Ski Haus or on a limited basis from 7 to 8:15 a.m. Saturday at the race site. Runners hoping to compete in the national championship event and a shot at the $5,000 in prize money must have a USATF membership.
Visit www.runnningseries.com for race information or www.usatf.org for membership details.