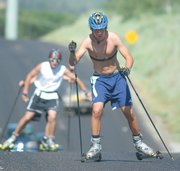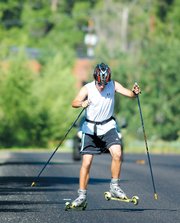 Steamboat Springs — Two miles of hot pavement along Fish Creek Falls Road doesn't look like it leads to Olympic glory. But for the 10 Nordic combined athletes who made repeated trips up the hill on roller skis Thursday morning, this is where the journey begins.
"It's really cool to get this chance," athlete Sam Chovan said near the end of Thursday's training session. "It's been great to have access to this level of training and to get to train with other top-level athletes."
Two athletes from the Central Division, two from Park City, Utah, and three from the Eastern Division joined Chovan on Thursday. Several other Steamboat athletes also were on hand for the training.
Chovan was one of 10 athletes taking part in a camp hosted by U.S. Ski Team veteran Billy Demong this week. Today, the camp will be combined with the regular National team camp, and both will build up to next Wednesday's Steamboat Extravaganza - a Nordic combined and special jumping competition at Howelsen Hill.
"I felt like this is a camp that needed to be done," Demong said. "We don't have a development team anymore, but we still need to continue to produce top Nordic combined skiers in this country if we want to be successful on the World Cup."
So, Demong asked promising young Nordic combined skiers to come to Steamboat in hopes of developing the next generation of national team athletes.
For the past several days, those athletes have met twice a day for conditioning, training and testing. The out-of-town skiers have lived together in the same condominium, and the Steamboat skiers have joined them whenever possible.
"We don't have a lot of money, so we've had to do this on the cheap," Demong said. "But the important thing is that we are getting together and training as a group."
Demong began his skiing career in a similar situation when he trained in Steamboat Springs with a large group of talented skiers that included teammates Johnny Spillane, Carl Van Loan and several others. That group became known as the Blob Squad because they were so close in age, ability and talent.
Demong hopes this camp will create another group of athletes that will push one another through the tough times, and celebrate together when things are going well.
After getting a good deal on a condominium, a donated van from the Steamboat Springs Winter Sports Club and plenty of enthusiasm from the athletes attending the camp, Demong feels like he's on the right track.
The camp began last Saturday and is scheduled to continue through July 4, when the athletes compete in the Steamboat Extravaganza.
Assistant Chris Gilbertson is in town helping Demong with his camp, but things will get even more serious today when coach Lasse Ottesen and veteran assistant Dave Jarrett and the rest of the national team arrives in town for a camp that will run in conjunction with this one.
"That camp will be primarily focused on jumping," Gilbertson said. "We wanted to start our summer training on the smaller hill and then build from there. Steamboat is perfect because it's close to Park City, and this town is so supportive of Nordic combined."
Gilbertson said the Steamboat Extravaganza is the perfect way to end both camps and encourages people to come out an watch the show with will include several rounds of jumping and a cross-country race down Lincoln Avenue before the Fourth of July parade.
"I can't think of a better way to end,' Gilbertson said. "This event had great crowds last year and the athletes had a lot of fun jumping."