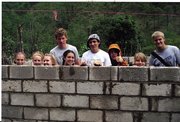 Steamboat Springs — Most high school students would shy away from 10 days with no showers or personal grooming.
But for the youth group of Steamboat Springs' United Methodist Church, a recent mission trip to Guatemala provided spiritual rewards that made up for the physical challenges.
"It's hard to describe the experience," sophomore Kylee Swiggart said. "Coming back into the United States, I felt like an outsider after only 10 days."
Tim Selby, associate pastor at the church, has taken youths all across the United States, Mexico and Puerto Rico in past mission trips. All of the trips involve some sort of service, from working in homeless shelters in New York to building homes in Mexico.
"It's the highlight of our youth program," Selby said. "It really allows the kids to find out who they are."
The United Methodist Church's mission trips are reserved for high school students. For many, the trips have more influence on their faith than any other experience with the youth program.
"I heard about other trips from previous years," Swiggart said. "But I didn't realize the extent of them, and just how moving it would be."
This year, Selby and his wife, Kristin, along with four other adults, took 17 kids to Lemoa, a small village outside of Chichicastenango, Guatemala. While they were there, the students built two cinderblock houses for the village ministers, one of whom practiced in the area for 37 years and never owned a house of his own. The students also visited the local orphanage every day.
"I really liked working with the kids," Swiggart said. "Seeing their faces was the best part."
Throughout the past year, youth group members participated in fundraisers to help pay for the trip. Events included themed church dinners and an auction where the kids were sold off to the highest bidder for a day's worth of work. Although the fundraisers helped, many of the students ended up paying the majority of the cost.
"These kids aren't just going to do the service, they're paying money themselves to go and work," Selby said. "We're not lounging on the beach."
So how does Selby persuade teenagers to spend money to do manual labor each year? He isn't quite sure, but Selby is convinced the program will continue in the future.
"Some years, I end up turning kids away," Selby said. "They really like to serve and help out."
Plans for next year's mission trip are already in the works.
"I'm really proud of how (the kids) conducted themselves on this trip," Selby said. "They worked really hard and gave back to people who truly deserved it."
Students participating in the mission trip included Kylee Swiggart, Hannah Ramirez, Taylor Anderson, Alyssa Walter, Taylor Smith, Abbey Lewis, Madison Struble, Carly Earp, Mandy Luchini, Kaeli Nolte, Genna Bradley, Garrett Ehrick, Jeffrey Houk, Charlie Smith, Josh Carlson, David Martin and Jay Trousil.
Adults on the trip included the Selbys, Julie Ramirez, Debbie Anderson and Bill and Anne Eakins. The Selbys also brought their children, 11-year-old Jessie and 9-year-old Brendan.